We'll publish details of current consultations on this page as soon as they are available, those which have recently closed are listed at the bottom. To find out more about the types of consultation and research we undertake such as annual surveys and statutory research please visit our consultation and research activities webpage.
Any published results will be available as depersonalised raw survey data or findings reports on our Open Data Platform. Details of other ways to access anonymised results may also be included in the recently closed consultations section.
---
Talkabout citizens' panel
We're currently updating Talkabout, our citizens' panel, which is one of the ways you can give us your feedback and views and influence what happens in York.
---
Navigation Road Trial
We've been listening to your feedback on the Low Traffic Neighbourhood trial since it started on 9th October 2021. Now that the scheme has been in place for some time, we are asking for your views again, to help us evaluate the scheme. We want to get the views of local residents businesses and road users to look at the trial's impact in more detail.
For more information on the trial please visit the scheme webpage and complete our survey online. If you require a paper copy of the questionnaire please email navigationroad.improvements@york.gov.uk.
Consultation closes 27 May 2022
Haxby Station Project
We've launched a public consultation to find out more about what the local community think about the plans to bring a railway station back to Haxby. There are a number of ways you can get involved. Find out more about the project and fill in the Haxby Station survey online. Paper copies of the survey are being made available at libraries in Haxby and Wigginton, Strensall and New Earswick.
You can also speak to the project team and share your views at a community engagement session on Thursday 5 May at Haxby Oaken Grove Community Centre. We'll be there from 5.30pm to 7.30pm for you to drop in and have your say.
Consultation closes Sunday 15 May 2022
---
Our Big Conversation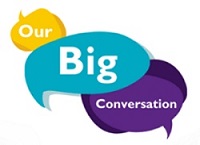 Over the next 12 months taking part in 'Our Big Conversation' will give you the opportunity to shape our response to the big challenges facing York, such as:
our response and recovery after the Coronavirus pandemic
the climate emergency
how we move around the city
defining an exciting future for our city centre and district centres
where we live and work, what jobs are available
how we make sure York's economy works for all residents
---
Age Friendly York
We want older residents to help shape where they live by working with local groups, businesses and the council to identify and make changes to their physical and social environments.
Age Friendly York will:
enable people to live healthy and active lives
encourage communities to treat people with respect, regardless of their age
We will ensure decisions are resident focused by:
providing the opportunity to feedback at any point, through all aspects covered by Age Friendly York - there is no wrong time to have a view
to ensure you have access to what the key findings are from the consultations and how these directly inform the action plan
to ensure information is available about what has been achieved so far
We welcome your comments if:
you live in York and are an older person or have an interest in ensuring the best experience for people growing old in York
you work for an organisation that meets the interest of older people in York
you are part of a volunteer group that engages with older people
you are a carer or have a neighbour or relative that is an older person in York
We are therefore building the opportunities for continual feedback. Whether you have a single comment, want to add an additional comment to an Age Friendly York survey you have completed or want to provide your views for the first time, you can do so via these ongoing online surveys:
You can also provide general feedback via email: agefriendlyyork@york.gov.uk or Twitter: @AgeFriendlyYork.
For more information see: Age Friendly York.
---
Recently closed consultations
Public Protection - Portakabin application (closed 25 April) An application to vary the permit conditions of a permit already permitted at Portakabin, New Lane, Huntington was received. The proposal is to install a new production line and to vary the permit conditions accordingly to cover the new activity. All comments will be placed on the public register unless they include a statement requesting that this is not done.

Public Space Protection Order consultations (closed 18 April 2022) - we held consultations with residents and businesses about introducing a new Public Space Protection Order for Union Terrace and Clarence Street, and a new Public Space Protection Order for and the city centre area encircled by the city walls

Footstreet exemption removal consultation (closed 15 April 2022) - we consulted on proposals to remove a Traffic Management Order exemption that previously allowed vehicle access to the city centre during footstreet hours
Statement of Licensing Policy Review (closed 10 February 2022) - the results of the consultation have been taken into consideration as part of the review of the Statement of Licensing Policy, the Policy has been updated accordingly. The revised Policy, Cumulative Impact Assessment and consultation responses will be considered by the Licensing and Regulatory Committee on 2 March 2022
Strensall with Towthorpe Neighbourhood Plan (closed 7 January) - we consulted on the submission version of the Strensall with Towthorpe Neighbourhood Plan, for further information visit the Strensall with Towthorpe Neighbourhood Plan website
---
Also see
Business Intelligence Hub
Customer and Corporate Services