We'll publish details of new consultations on this page as soon as they're available; find out more about our consultation and research activities, such as annual surveys, statutory research and pieces of research.
Talkabout citizens' panel
We're currently updating Talkabout, our citizens' panel, which is one of the ways you can give us your feedback and views and influence what happens in York.
---
School admission arrangements consultation
The annual school admission arrangements consultation is taking place between 12 October and 29 November - you're invited to view the documents and provide comments. The admissions policies, published admission numbers and related documents for schools in the City of York area relate to how admissions applications and decisions will be made for the 2022 to 2023 school year.
The consultation is a joint exercise between all admissions authorities in York, including:
City of York Council on behalf of community and voluntary controlled schools
governing bodies of voluntary aided schools
academy trusts of (single) academies
the trust board, and local governing committees, of multi-academy trusts
Consultation closes 29 November 2020
---
York outer ring road dualling scheme
We're asking for you to comment on the proposals to improve the York Outer Ring Road, A1237, (YORR).
The scheme concerns the section of the A1237 from A19 Shipton Road to A1036 Little Hopgrove, and involves the upgrade of 6 sections of the northern YORR, including 5 roundabouts. For more information please visit our YORR webpage.
To comment on the proposals please complete our YORR Dualling Scheme survey
Consultation closes 16 November 2020
---
Council Tax Support Scheme
We'd like to know your opinion on proposed changes to the Council Tax Support Scheme (CTS).
We're is considering updating York's CTS scheme and simplifying the way Council Tax Support is allocated. Currently, every small change to a claimant's income, and their partner's income, if they have one, means that their Council Tax Support has to be reassessed, their council tax recalculated and a new bill sent. Constant changes to a person's council tax bill can be confusing, make budgeting difficult and can make it harder to know what to pay and keep up payments.
Please read about and tell us what you think of the proposed changes.
Consultation closes 13 November 2020.
---
Our Big Conversation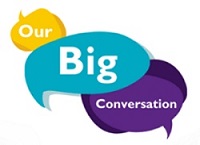 Over the next 12 months taking part in 'Our Big Conversation' will give you the opportunity to shape our response to the big challenges facing York, such as:
our response and recovery after the Coronavirus pandemic
the climate emergency
how we move around the city
defining an exciting future for our city centre and district centres
where we live and work, what jobs are available
how we make sure York's economy works for all residents
---
My City Centre York
Help us to shape a city centre where the people of York love to spend time, live and work. My City Centre York is a response to the huge challenges facing the high street. Our city centre has always evolved, but changes to the way people shop, bank, access services and spend money mean that this will be quicker and more dramatic than we've seen before. See more information about My City Centre York, fill in our questionnaire, use or view an interactive feedback map, or find out about other events and activities.
The My City Centre York project has been paused temporarily as staff are redeployed to the coronavirus emergency response. Thank you for all responses to date, which will be taken into account when we recommence. We look forward to resuming discussions on the long term vision for the city centre soon.
---
Age Friendly York
We want older residents to help shape where they live by working with local groups, businesses and the council to identify and make changes to their physical and social environments.
Age Friendly York will:
enable people to live healthy and active lives
encourage communities to treat people with respect, regardless of their age
We will ensure decisions are resident focused by:
providing the opportunity to feedback at any point, through all aspects covered by Age Friendly York – there is no wrong time to have a view
to ensure you have access to what the key findings are from the consultations and how these directly inform the action plan
to ensure information is available about what has been achieved so far
We welcome your comments if:
you live in York and are an older person or have an interest in ensuring the best experience for people growing old in York
you work for an organisation that meets the interest of older people in York
you are part of a volunteer group that engages with older people
you are a carer or have a neighbour or relative that is an older person in York
We are therefore building the opportunities for continual feedback. Whether you have a single comment, want to add an additional comment to an Age Friendly York survey you have completed or want to provide your views for the first time, you can do so via these ongoing online surveys:
You can also provide general feedback via email: agefriendlyyork@york.gov.uk or Twitter: @AgeFriendlyYork.
For more information see: Age Friendly York.
---
Recently closed consultations
Future of the 68 Centre (closed 16 October) - we wanted to understand what local residents think about the future of the centre and the land it sits on
Proposed street works permit scheme (closed 14 October) - we asked for your comments on proposals to adopt a permit scheme, to charge for the management of street works coordination
Scarborough Bridge to Bootham Park walk and cycle route improvements (closed 12 October) - we asked for your comments on the proposal to improve the cycle and pedestrian route between York Station, Bootham Park, York Hospital, and the city centre
More local powers for York - Join the conversation on Devolution (closed 25 September 2020) - we asked for feedback on a York and North Yorkshire devolution proposal. To find out more about devolution and our position you can visit our devolution webpage
Environmental Permit Under Consideration (closed 17 July 2020) - For more information please visit the environmental permits webpage. All applications for environmental permits are listed in our public register of sites
---
Also see
Business Intelligence Hub
Customer and Corporate Services