We'll publish details of new consultations on this page as soon as they're available; find out more about our consultation and research activities, such as annual surveys, statutory research and pieces of research.
Talkabout citizens' panel
We're currently updating Talkabout, our citizens' panel, which is one of the ways you can give us your feedback and views and influence what happens in York.
---
Fulford School Expansion
Fulford School would like your views on their proposed expansion.
Full details and the consultation questionnaire are available on the Fulford School consultation webpage.
Consultation closes 15 January 2021
---
Proposed Modifications to Green Belt Policies in the Huntington Neighbourhood Plan
We'd like your views on the proposed modifications to Green Belt Policies in the Huntington Neighbourhood Plan.
See full details of the Huntington Neighbourhood Plan Green Belt consultation.
Consultation closes at 11.45pm on Thursday 28 January 2021
---
2021 to 2022 Council Budget
Due to the response to the pandemic, we're facing a significant budget gap of £15 million.
Help us to decide how to use our 2021 to 2022 budget to stabilise our financial position, support local communities and continue to deliver our services.
Take part in our online budget survey to tell us your views.
Consultation closes Sunday 31 January 2021
---
Smokefree playparks in York
In our Health and Wellbeing Strategy, the council and its partners have committed to 'creating a smoke free generation in York'. To help us achieve this we would like to introduce smoke free zones in the areas of the city where smoking is likely to be most visible or harmful, such as within children's playparks in the city which are managed by the council.
To share your views on the plans please complete our online smokefree playparks survey.
Consultation closes 1 February 2021
---
Our Big Conversation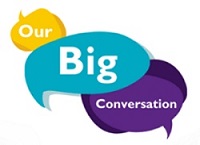 Over the next 12 months taking part in 'Our Big Conversation' will give you the opportunity to shape our response to the big challenges facing York, such as:
our response and recovery after the Coronavirus pandemic
the climate emergency
how we move around the city
defining an exciting future for our city centre and district centres
where we live and work, what jobs are available
how we make sure York's economy works for all residents
---
My City Centre York
Help us to shape a city centre where the people of York love to spend time, live and work. My City Centre York is a response to the huge challenges facing the high street. Our city centre has always evolved, but changes to the way people shop, bank, access services and spend money mean that this will be quicker and more dramatic than we've seen before. See more information about My City Centre York, fill in our questionnaire, use or view an interactive feedback map, or find out about other events and activities.
The My City Centre York project has been paused temporarily as staff are redeployed to the coronavirus emergency response. Thank you for all responses to date, which will be taken into account when we recommence. We look forward to resuming discussions on the long term vision for the city centre soon.
---
Age Friendly York
We want older residents to help shape where they live by working with local groups, businesses and the council to identify and make changes to their physical and social environments.
Age Friendly York will:
enable people to live healthy and active lives
encourage communities to treat people with respect, regardless of their age
We will ensure decisions are resident focused by:
providing the opportunity to feedback at any point, through all aspects covered by Age Friendly York - there is no wrong time to have a view
to ensure you have access to what the key findings are from the consultations and how these directly inform the action plan
to ensure information is available about what has been achieved so far
We welcome your comments if:
you live in York and are an older person or have an interest in ensuring the best experience for people growing old in York
you work for an organisation that meets the interest of older people in York
you are part of a volunteer group that engages with older people
you are a carer or have a neighbour or relative that is an older person in York
We are therefore building the opportunities for continual feedback. Whether you have a single comment, want to add an additional comment to an Age Friendly York survey you have completed or want to provide your views for the first time, you can do so via these ongoing online surveys:
You can also provide general feedback via email: agefriendlyyork@york.gov.uk or Twitter: @AgeFriendlyYork.
For more information see: Age Friendly York.
---
Recently closed consultations
---
Also see
Business Intelligence Hub
Customer and Corporate Services