We'll publish details of current consultations on this page as soon as they are available, those which have recently closed are listed at the bottom. To find out more about the types of consultation and research we undertake such as annual surveys and statutory research please visit our consultation and research activities webpage.
Any published results will be available as depersonalised raw survey data or findings reports on our Open Data Platform. Details of other ways to access anonymised results may also be included in the recently closed consultations section.
Talkabout citizens' panel
We're currently updating Talkabout, our citizens' panel, which is one of the ways you can give us your feedback and views and influence what happens in York.
---
City of York Reablement Service Survey
Reablement aims to restore people's independence following a period of ill-health or a hospital stay. It is a short-term intervention that involves intensive assessment and therapeutic work from a single day to, ideally, a maximum of 6 weeks.
The service is available to residents aged 18 years and over who live within the City of York Council boundaries and who have been referred to the service by the council's Adult Social Care team.
The reablement service is designed to:
promote independent living, especially after hospital discharge
deliver an excellent customer-focused, cost-effective reablement service
encourage lifetime wellbeing at home
Service users and professionals can complete the survey online:
We welcome your comments on the survey if:
you live in York and have come across the reablement service either through a family member or yourself
you work for an organisation that meets the needs of users of reablement services
you are part of a volunteer group that engages with the reablement services
you are a carer or have a neighbour or relative that support service users of reablement services
Consultation closes on Friday 3 February 2023.
---
Age Friendly York
We want older residents to help shape where they live by working with local groups, businesses and the council to identify and make changes to their physical and social environments.
Age Friendly York will:
enable people to live healthy and active lives
encourage communities to treat people with respect, regardless of their age
We will ensure decisions are resident focused by:
providing the opportunity to feedback at any point, through all aspects covered by Age Friendly York - there is no wrong time to have a view
to ensure you have access to what the key findings are from the consultations and how these directly inform the action plan
to ensure information is available about what has been achieved so far
We welcome your comments if:
you live in York and are an older person or have an interest in ensuring the best experience for people growing old in York
you work for an organisation that meets the interest of older people in York
you are part of a volunteer group that engages with older people
you are a carer or have a neighbour or relative that is an older person in York
We therefore have a range of options for you to share your Age Friendly views and experiences. You can:
provide your comments by completing Age Friendly York - Your Voice/Your Experience
provide your comments by email: agefriendlyyork@york.gov.uk
use Twitter and tag us using @AgeFriendlyYork
give Carl Wain a ring for a chat via telephone: 01904 554595
post your comments in our Suggestion Box at St Sampson's Centre, Church Street, York, YO1 8BE
attend an Age Friendly meetings or happy to chat café; for more information please contact us by email: agefriendlyyork@york.gov.uk or telephone: 01904 554595
For more information see: Age Friendly York.
---
Our Big Conversation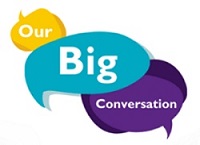 Taking part in 'Our Big Conversation' will give you the opportunity to shape our response to the big challenges facing York
What will York look like in 10 years time? Have your say about the big challenges affecting York:
the climate emergency
where we live and our health and wellbeing
how we make sure York's economy works for all residents
This consultation is closed for now.
---
Recently closed consultations
2023/2024 Budget Consultation - closed Monday 9 January 2023: We asked for feedback from residents to help us understand what's important to you regarding financial pressures and demand for our services.
Jubilee Terrace to Scarborough Bridge riverside path consultation - closed 8 January 2023: We asked for feedback to help us to understand the main concerns of local residents and path users, to inform improvements to the Jubilee Terrace to Scarborough Bridge riverside path
Heworth Without Multi Use Games Area consultation - closed 30 December 2022: We asked for feedback from residents and local organisations on plans to explore the installation of a Multi Use Games Area (MUGA) within the Heworth Without Ward area
Hospital Fields Road cycle improvements consultation - closed 19 December 2022: We asked for your views on the proposed installation of segregated cycle lanes along Hospital Fields Road, to separate cyclists from the carriageway
York and North Yorkshire devolution - closed Friday 16 December 2022: We gathered views on how the proposed devolution deal for York and North Yorkshire would be implemented
---
Also see
Business Intelligence Hub
Customer and Corporate Services