We'll publish details of new consultations on this page as soon as they're available; find out more about our consultation and research activities, such as annual surveys, statutory research and pieces of research.
Talkabout citizens' panel
We're currently updating Talkabout, our citizens' panel, which is one of the ways you can give us your feedback and views and influence what happens in York.
---
Have your say on York's Local Plan
We would like your views on the New Local Plan Proposed Modifications and Evidence Base Consultation.
The consultation started on Tuesday 25 May and closes at midnight on Wednesday 7 July 2021.
---
York Education Futures
We are interested in your views on education so that we make the right decisions for the futures of the children of York. Please help us to plan by completing our York Education Futures survey. We have three different surveys aimed at different audiences:
Consultation closes on 2 July 2021
---
SEND Inclusion Review
As a city committed to supporting all our residents, we want to make sure that we have the right provision in place to help children and young people in York with Special Educational Needs and Disabilities (SEND), to fulfil their individual potential.
We need to provide a wide range of provision to meet the varied and complex needs of our children and young people, within the budget available. And we need your help to make sure we have the right provision in place.
For more information and details of how to get involved with the consultation please visit our SEND Inclusion Review webpage
Consultation closes on 30 June 2021
---
Additional Licensing Scheme
We are seeking views on our proposal to introduce a targeted Additional Licensing Scheme for Houses in Multiple Occupation (HMOs) to ensure our city has a safe, well-managed and professionally run private rented sector. For more information please visit our Additional Licensing Scheme Webpage
To have your say in the consultation please complete our Licensing Scheme survey.
Once we have consulted with our residents and stakeholders, the council will use the findings to inform our decision. We will publish our decision in Autumn 2021.
Consultation closes on 27 June 2021
---
Help to co-design the York Community Woodland
City of York Council is seeking feedback from residents and local organisations on its plans to create a vast community woodland on 194-acres of land to the West of York, near Knapton.
As part of its commitment to creating a cleaner, greener city and its ambitious target of reaching net zero carbon by 2030, the council plans to plant 50,000 trees on the site by the spring of 2023. As well as acting as a carbon sink, the green space will boost the health and mental wellbeing of local people by giving them somewhere to exercise, spend time outdoors in nature and a place for quiet contemplation. It will be an important wildlife habitat, boosting biodiversity in the city, as well as creating new green jobs and volunteering opportunities, and helping to develop green skills.
In recent months the council has completed a detailed land character assessment to explore the site's existing flora and fauna, landscape, soil types, drainage features and access points. This process has given the council a good understanding of the opportunities and constraints presented by the site, and helped to shape a series of different design concepts showing how the woodland could look.
Local people are now being asked to share their views on the design concepts so that their feedback can be used to help shape the council's plans for the site, as well as offering an insight into the role that residents and local groups can play in its creation and ongoing management. The council is also inviting local people to suggest possible names for the new woodland that reflect the heritage of the local area and tie in with what it's trying to achieve.
Please view the woodland concept designs to see what the woodland could look like, details on how to then submit your feedback are below.
Get involved by:
For more information on the York Community Woodland project please visit our York Community Woodland webpage.
Consultation closes on 26 May 2021
---
Our Big Conversation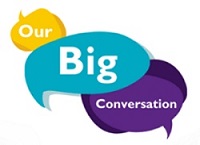 Over the next 12 months taking part in 'Our Big Conversation' will give you the opportunity to shape our response to the big challenges facing York, such as:
our response and recovery after the Coronavirus pandemic
the climate emergency
how we move around the city
defining an exciting future for our city centre and district centres
where we live and work, what jobs are available
how we make sure York's economy works for all residents
---
My City Centre York
Help us to shape a city centre where the people of York love to spend time, live and work. My City Centre York is a response to the huge challenges facing the high street. Our city centre has always evolved, but changes to the way people shop, bank, access services and spend money mean that this will be quicker and more dramatic than we've seen before. See more information about My City Centre York, fill in our questionnaire, use or view an interactive feedback map, or find out about other events and activities.
The My City Centre York project has been paused temporarily as staff are redeployed to the coronavirus emergency response. Thank you for all responses to date, which will be taken into account when we recommence. We look forward to resuming discussions on the long term vision for the city centre soon.
---
Age Friendly York
We want older residents to help shape where they live by working with local groups, businesses and the council to identify and make changes to their physical and social environments.
Age Friendly York will:
enable people to live healthy and active lives
encourage communities to treat people with respect, regardless of their age
We will ensure decisions are resident focused by:
providing the opportunity to feedback at any point, through all aspects covered by Age Friendly York - there is no wrong time to have a view
to ensure you have access to what the key findings are from the consultations and how these directly inform the action plan
to ensure information is available about what has been achieved so far
We welcome your comments if:
you live in York and are an older person or have an interest in ensuring the best experience for people growing old in York
you work for an organisation that meets the interest of older people in York
you are part of a volunteer group that engages with older people
you are a carer or have a neighbour or relative that is an older person in York
We are therefore building the opportunities for continual feedback. Whether you have a single comment, want to add an additional comment to an Age Friendly York survey you have completed or want to provide your views for the first time, you can do so via these ongoing online surveys:
You can also provide general feedback via email: agefriendlyyork@york.gov.uk or Twitter: @AgeFriendlyYork.
For more information see: Age Friendly York.
---
Recently closed consultations
Blue Badge Parking Locations (closed 13 May) - We asked Blue Badge holders for their views on potential new car parking bays to improve access to the city centre. We also heard from taxi drivers and neighbouring residents and businesses about the impact the changes would have on them.
Recycling Changes (closed 11 May) - We invited residents to give their views on current waste collections and what the council can do to help people recycle more.
Draft Vehicle Crossing Policy (closed 28 April) - We asked for feedabck on proposals to adopt a vehicle crossing (dropped kerb) policy to support the vehicle crossing application process.
Fulford School Expansion (closed 27 April) - Residents were invited to a consultation evening to discuss the school expansion project.
Acomb Front Street (closed 18 April) - We asked businesses, residents and visitors what they love and what they'd like to change about Acomb's Front Street to inform an action plan for the local area.
---
Also see
Business Intelligence Hub
Customer and Corporate Services