We'll publish details of new consultations on this page as soon as they're available; find out more about our consultation and research activities, such as annual surveys, statutory research and pieces of research.
---
Talkabout citizens' panel
We're currently updating Talkabout, our citizens' panel, which is one of the ways you can give us your feedback and views and influence what happens in York.
---
Budget Consultation 2022/23
Our focus for the 2022/23 budget is to stabilise our financial position, allowing us to deliver services and support communities.
We will continue our £500 million capital investment programme to accelerate economic recovery, whilst continuing to support local residents and businesses and communities.
To help us make these tough decisions, we want to hear what's important to you. Please take our online 2022/23 Budget survey to have your say.
Consultation closes on 8 December 2021.
---
York Hackney Carriage Unmet Demand Survey
We're asking for your feedback on the provision of services offered by Taxis and Private Hire Vehicles in York.
Taxis and Private Hire Vehicle companies, and members of the public, are invited to complete the relevant 4 minute survey, to tell us about your experience of 'hackney carriages' (taxis) and private hire vehicles, before the impact of COVID-19 (before March 2020), and how this compares with current circumstances.
We're working with Licenced Vehicle Surveys and Assessments (LVSA) to deliver this survey and provide analysis on the information gathered. You can read the York Hackney Carriage Unmet Demand Survey Privacy Notice.
Consultation closes on 12 December 2021.
---
Haxby and Wigginton Area Economic Study
City of York Council is asking residents, businesses and shoppers to tell us how they use Haxby and Wigginton, whether they live locally, work there, or use the retail area for shopping and socialising. We will listen to opinions in order to address challenges and develop projects for the future based on the lived experience of respondents and their needs, as well as using the findings to bid for funding to invest back into the area.
Take part in the Haxby and Wigginton Area Economic Study, and let us know your opinions on a broad range of issues including:
parking and cycling
shopping habits
facilities and local amenities
green issues
changing work environments and business needs
the impact of COVID 19
See the Haxby and Wigginton Area Economic Study Privacy Notice.
Consultation closes on 23 December 2021.
---
Additional Licensing Scheme
We are seeking your views on our proposal to introduce a targeted Additional Licensing Scheme for Houses in Multiple Occupation (HMOs)  to ensure our city has a safe, well-managed and professionally run private rented sector.
Houses in Multiple Occupation (HMOs) are shared homes, including houses and flat shares, student homes and bedsits. York has a significant private rented sector which is home to a diverse mix of people, families and communities. We want to ensure that all rented housing in York meets suitable standards of maintenance and is run professionally to a high standard. Complete our online HMO Additional Licensing Scheme survey to give your feedback.
Consultation closes on 31 December 2021.
---
Strensall with Towthorpe Neighbourhood Plan - Submission consultation
Strensall with Towthorpe Parish Council submitted the Submission version Strensall with Towthorpe Neighbourhood Plan and associated documents to City of York Council on 16 June 2021. The draft Neighbourhood Plan sets out the proposed planning policies for their designated neighbourhood area.
The Council is currently consulting on the Submission version of the Strensall with Towthorpe Neighbourhood Plan. The consultation runs from Monday 15 November 2021 to Friday 7 January 2022.
See further information on the documents being consulted on, where they can be viewed, and how to get involved in the consultation.
For further information, visit the Strensall with Towthorpe Neighbourhood Plan website.
The consultation closes on 7 January 2022.
---
Statement of Licensing Policy Review
City of York Council are seeking the views of all interested parties with regards to the review of the Statement of Licensing Policy and the Cumulative Impact Assessment.
The Licensing Act 2003 (the Act) requires each Licensing Authority to review their Statement of Licensing Policy at least every 5 years. It is also a requirement of the Act that each Licensing Authority, who has published a Cumulative Impact Assessment (CIA), to review their CIA at least every 3 years.
See further details of the Statement of Licensing Policy and Cumulative Impact Assessment consultation.
The results of the consultation will be considered by the Licensing and Regulatory Committee before being approved by Full Council.
Consultation closes on 10 February 2022.
---
Our Big Conversation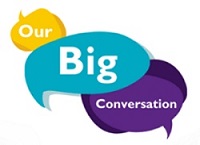 Over the next 12 months taking part in 'Our Big Conversation' will give you the opportunity to shape our response to the big challenges facing York, such as:
our response and recovery after the Coronavirus pandemic
the climate emergency
how we move around the city
defining an exciting future for our city centre and district centres
where we live and work, what jobs are available
how we make sure York's economy works for all residents
---
Age Friendly York
We want older residents to help shape where they live by working with local groups, businesses and the council to identify and make changes to their physical and social environments.
Age Friendly York will:
enable people to live healthy and active lives
encourage communities to treat people with respect, regardless of their age
We will ensure decisions are resident focused by:
providing the opportunity to feedback at any point, through all aspects covered by Age Friendly York - there is no wrong time to have a view
to ensure you have access to what the key findings are from the consultations and how these directly inform the action plan
to ensure information is available about what has been achieved so far
We welcome your comments if:
you live in York and are an older person or have an interest in ensuring the best experience for people growing old in York
you work for an organisation that meets the interest of older people in York
you are part of a volunteer group that engages with older people
you are a carer or have a neighbour or relative that is an older person in York
We are therefore building the opportunities for continual feedback. Whether you have a single comment, want to add an additional comment to an Age Friendly York survey you have completed or want to provide your views for the first time, you can do so via these ongoing online surveys:
You can also provide general feedback via email: agefriendlyyork@york.gov.uk or Twitter: @AgeFriendlyYork.
For more information see: Age Friendly York.
---
Recently closed consultations
The Groves low traffic neighbourhood trial consultation (closed 14 November) - We asked local residents, businesses, schools, community groups, and all road users to look at the impact of the Groves low traffic neighbourhood trial in more detail and share their thoughts on it.
School admission arrangements consultation (closed 14 November) - A chance to provide feedback on the admissions policies, published admission numbers and related documents for schools in the City of York area relate to how admissions applications and decisions will be made for the 2023 to 2024 school year. For more information, visit the Coordinated Admission Consultation for 2023-2024 webpage.
Coppergate Temporary Traffic Restrictions (closed 4 November) - Views were sought on the temporary one way restriction which was introduced in Coppergate in June 2020, as part of an Emergency Active Travel scheme. Please visit our Coppergate Traffic Restrictions webpage to find out more about the temporary system put in place.
City Centre Access (closed 25 October - We asked residents and businesses to feedback on ideas to make access to York city centre easier, safer and more environmentally friendly.
My City Centre York (closed 4 October) - We asked for feedback on the draft vision for York city centre created as part of the My City Centre York project.
---
Also see
Business Intelligence Hub
Customer and Corporate Services