A draft vision for My City Centre York
After listening to your views as a vital part of the My City Centre York project we have produced a draft vision of the future of York's city centre.
Email us to request a PDF version of the draft My City Centre York vision. These web pages provide a summary the 'themes' covered by the draft My City Centre York vision, which covers:
a family friendly city centre
events, experiences and investment in public spaces
an attractive city at all times
making tourism work for York
embracing our riverside
a city centre which is welcoming to all
thriving businesses and no empty buildings
celebrating heritage and making modern history
Download the 'Easy Read' version of the My City Centre York draft vision.
Creating a vibrant city centre for York
We want to create a vibrant city centre, and a city centre that can adapt to change. The most important aspect of this, is people.
People create the noise, soul and life of a city, and crucially, the captive audience for businesses to thrive.
People, or footfall, is the key to a successful place. When footfall and vibrancy drop, fewer services and shops can be supported, vacancies rise and employment falls.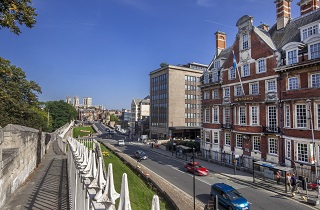 A vibrant and popular place will attract people and support shops and services for our residents. By influencing how and when the city centre is used, and adapting key spaces, we can manage this better and optimise the benefits for all.
York is an amazing place that people want to visit, and tourism is a key component of our economy. But first and foremost our city centre exists to serve the needs of our residents. By focusing our vision on ensuring the city centre is in the best place it can be, for our residents and communities that live here, the visitors that support the economy and sustain our shops, markets, restaurant and jobs will follow.
Also see
My City Centre York
Creating a new vision for York's city centre