Events, experiences and investment in public spaces
After listening to your views as a vital part of the My City Centre York project, the My City Centre York vision has now been approved.
The squares and streets in York city centre frame an astonishing wealth of heritage and activity, but are in need of improvement in many places with poor physical appearance, accessibility and usability flagged in engagement.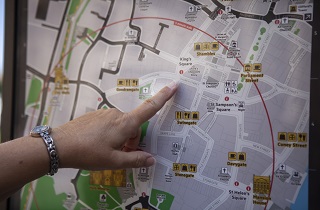 Events are, and will continue to be, a key part of York's character and identity; an attractor of visits to the centre, and driver of economic activity. However, events can also be disruptive at times, due to their location, and are perceived to target visitors and niche interests, with a need to target residents and create a broader appeal.
Parts of Shambles Market have enjoyed a resurgence over the period of the coronavirus pandemic, with the 'Shop Local' movement, and trialling of dining and events in the evening. We need to explore how markets can continue to improve and evolve with Make it York.
The vision for events, experiences and investment in public spaces
Invest in public space, squares and our secondary shopping areas.
Spread the location of events better throughout the city's spaces.
Focus the events programme across a wide range of offers that have broad and inclusive appeal.
Improve the digital and physical signposting of events.
Make it simpler, cheaper and less disruptive to hold events in the city, and support more community led events.
Explore opportunities to support and improve our thriving permanent and temporary markets, with Make it York.
Potential changes to create events, experiences and investment in public spaces
Some of the things that could change include:
---
Investing in public space
Investing in well-designed new and improved spaces to create world class 'public realm' would:
enhance footfall and spend
encouraging private investment
create flexible spaces better able to accommodate a range of activities
improve the setting of our unique heritage
Amenity, environmental resilience and accessibility should be at the fore in designing spaces. Ecologically beneficial green spaces should be integrated, with the high street greened, and the right trees planted in the right places, to provide shade and biodiversity.
---
Greening the city
The city centre has few green open spaces, but those it has are cherished and well used. Green space offers opportunities for quiet contemplation, community activity, leisure and active travel, as well as having environmental importance in promoting biodiversity, better managing water, solar shading and carbon sequestration.
We will incorporate green spaces wherever appropriate as part of the investment in public squares and secondary shopping areas.
We will explore supporting the provision of a network of publically accessible green roofs as part of development proposals within the city.
---
Spreading events through the city
Most large events are currently concentrated in Parliament Street, which can cause disruption to businesses, residents and visitors. Spreading events through the city, and having trail-based approaches can reduce impacts, whilst spreading the benefits of more managed footfall to more businesses.
Exciting new spaces are proposed at the Castle and Eye of York and York Central, and new and improved spaces proposed in the Minster Neighbourhood Plan could play a role.
We can work with partners to plan events which use these new spaces, and have more trail-based events where appropriate, by ensuring the right infrastructure is in place at these locations.
---
Refocus the events programme
Whilst events have always been intended to appeal to both visitors and residents, there is a broad perception in feedback that they are aimed at tourists. The coronavirus pandemic has also brought about the loss of several popular events.
Working with partners, we can seek to develop a more inclusive events programme, with a broader appeal (alongside specific interests), and a focus on events which capture the imagination of local residents.
---
Signposting events
Feedback from local residents points to poor information on events in the city, so we will improve both physical advertising and online information.
---
Simplifying event operation and opening up to community-led events
As spaces have not been designed specifically for events, they take longer to set up, are more resource intensive to manage, and costly to operate. This results in more disruption, restricts operators, and reduces choice affordability and diversity of events.
Newly designed spaces can be properly configured for events, and appropriate infrastructure provided for things like loading and services.
Existing spaces can be improved in terms of layout and services, to allow events to take place.
Provision of permanent structures such as canopies in a sensitive and appropriate manner can also be explored.
Providing spaces in this way could allow more grass-roots community-led events, which would provide more for local residents, and stimulate social interaction and cultural experiences.
We could promote these opportunities to the community, manage an overall programme of these events, and provide logistical and other support to these groups.
---
Support and improve our markets
Shambles Market is popular for residents and also provides interest and vibrancy for visitors, it's also unusual in operating 7 days a week. The coronavirus pandemic served to highlight the importance of the market for residents buying produce, and temporarily extending operating hours to the evening, for food drink and events, also proved popular. However COVID-19 also highlighted the congested space, and traders having to take stock in and out daily can be problematic for all.
Working with Make it York and traders, we can explore opportunities to further improve the market, with the objectives of increasing popularity, vibrancy, hours of operation, and flexibility of the space, as well as making markets simpler and more efficient to operate.
---
My City Centre York
Delivering a new vision for York's city centre