A city centre which is welcoming to all
After listening to your views as a vital part of the My City Centre York project, the My City Centre York vision has now been approved.
York city centre is home to around 8,000 people.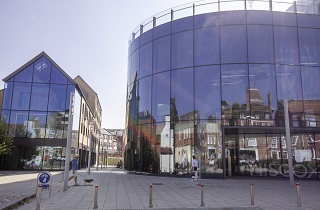 As sustainable city living continues to be supported and to grow, we must ensure that these residents have the resources and facilities to live happy successful lives.
We must also 'invest in place' to ensure that the city centre is a safe, welcoming, and accessible space for all - to ensure its continued vibrancy.
Ideas for creating a city centre which is welcoming to all
Create a city centre where residents can live in successful and confident communities.
Improve services, open spaces and facilities for city centre residents.
Improve accessibility through a wide range of measures including more dropped kerbs, improved surfaces and seating, and better facilities for disabled people.
Embed dementia friendly standards into public spaces.
Achieve World Health organisation charter status for age friendly city.
Create a welcoming and accepting city centre for all.
Potential changes to create a city centre which is welcoming to all
Some of the things that could change include:
---
Successful, confident city centre communities
Alongside partners we can support, encourage, and actively develop new city living opportunities. Affordable housing requirements will help to ensure diversity and vibrancy of city communities, and a mixture of housing to meet the needs of all generations will be promoted.
We can also explore opportunities to provide new community facilities and services, in the city centre, as 'mixed-use' become more viable.
---
Services, open spaces and facilities
Services, open spaces and facilities are essential components of any successful community, but challenging to provide in the city centre, where space is constrained and at a premium.
We can invest in public spaces to make existing spaces fit for purpose, attractive, and more flexible and multi-functional. We are also creating exciting new inner-city spaces in the Castle Gateway, York Central and regeneration schemes, such as the proposed Riverside Quarter, which can also provide high quality, new, open public spaces like the proposed riverside walkway.
A range of services were highlighted during engagement activities as being beneficial to local communities, with free to use activities (such as museums and libraries), health services and food shops receiving the broadest support. We can support proposals for these, and explore business rates incentives to encourage new provision.
---
Improving city centre safety
A city centre that is safe for people, and perceived as such, will encourage more people to visit, and improve their experience.
Engagement highlighted the safety concerns of some, particularly in the evening and for women. Working with partners and people who use the city centre, we will:
support development of the Women's Night Safety Charter planned with Safer York
undertake an audit of city centre spaces to identify improvements
embed better standards of design in new and improved spaces,
look to facilitate a city wide network of 'safe spaces' for young people to rely on.
---
City centre accessibility
The quality of 'surface treatments' (of streets, roads, pavements) across the city has been highlighted during engagement activities as an issue for many people, particularly those with mobility issues.
Parliament Street, Pavement, Colliergate and Goodramgate were identified particularly in feedback, as having poor surfaces.
When we invest in public spaces we can improve streets, roads, pavements in the city, provide dropped kerbs where required, and new facilities such as seating and refuges. These measures would enhance the city's physical appearance and accessibility. These, and other improvements, will be looked at in the city centre access review and consultation.
---
Dementia and autism friendly city
As a complex historic city, York can be challenging to navigate for those with dementia; measures related to wayfinding, space legibility and distinctiveness can all help make friendlier spaces.
Building on the work of the York Dementia Action Alliance, we can undertake an audit of York's city centre to recommend improvements, and embed dementia friendly standards into all new and improved public spaces.
---
Age friendly city
As part of Age Friendly York we are already working towards 'Age Friendly' status in the city, with our partners, using the World Health Organisation (WHO) 'Age Friendly Statements' to check how we are currently performing.
Actions set out elsewhere in the My City Centre York vision would help to make our city centre a more Age Friendly place, and the forthcoming strategic review of city centre access and parking will consider the needs of specific age related communities of interest.
We can also ensure that as we invest in public spaces they are designed to age friendly standards and best practices.
---
Welcoming and accepting city
We want York to be a place which is welcoming and accepting to all, and we'll benefit from this by being more vibrant, culturally rich and diverse.
We can help achieve this objective through our marketing and branding approaches, and by reflecting these values in our physical city centre improvements, wherever possible.
---
My City Centre York
Delivering a new vision for York's city centre