Thriving businesses and no empty buildings
After listening to your views as a vital part of the My City Centre York project, the My City Centre York vision has now been approved.
The nature of commerce in the high street is changing fundamentally and rapidly, and it takes significant investment in time and resource (and exposure to risk) for landowners and businesses to adapt their assets in response to this change.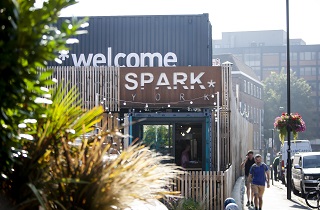 We want to create a city centre where:
vibrant mixed-use buildings can co-exist
innovation and growth can happen
the goods and services on offer can respond dynamically to consumer demand
We want to do this in a way which uses the city's existing buildings to best advantage. To achieve all of this, we need to ensure that our processes are sufficiently flexible, facilitative and responsive, whilst maintaining appropriate controls where necessary.
Ideas for creating thriving businesses and no empty buildings
Ensure city centre businesses are able to thrive and adapt through a supportive regulatory environment, and by creating a city centre people want to visit
Facilitate 'temporary uses' in empty buildings and spaces, through business rates and business support where possible, and by lobbying government for a flexible and reformed rates system
Encourage re-use of the under-used upper floors of buildings through planning support and business rates approach
Support tours and experiences to explore historic empty buildings
Potential changes to create thriving businesses and no empty buildings
Some of the things that could change include:
---
Creating an environment for thriving businesses
The starting point for this vision is an acceptance that it cannot influence national change, but rather must create the environment for local business to thrive and adapt, through supporting footfall and streamlining the process that let business and buildings adapt.
Business support will be provided through the council's Economic Development Team, to more directly support growth and adaptation, with an emphasis on sustainable and green jobs, and local industries.
---
Improving the environmental sustainability of businesses
Working with partners such as York BID and the business community, we can explore ways for businesses in the city centre to improve the environmental sustainability of their business operations, targeting high impact changes and those which most benefit from collective action.
We can support and facilitate any changes identified through:
securing funding for and delivering overarching infrastructure proposals
disseminating best practice
marketing and communicating the approaches to a broader audience
exploring collective purchasing to reduce cost
exploring funding options
brokering approaches with landlords where they are remote or disengaged
---
Supporting the independent sector
York's independent businesses are highly valued by residents and a key part of the city's draw for visitors, establishing a unique character and offer to the centre, and differentiating it from other towns and cities.
The UNESCO creative city designation is a key part of this, and the city has a thriving creatives sector who have specific space requirements themselves. The indie sectors contribute significantly to the local economy, with returns also more likely to be reinvested locally.
Working with key partners such as Indie York, we will explore the best ways to further support this sector, and we will encourage development proposals which provide the types of floor space most suited to this sector.
---
Temporary use of buildings and spaces
Temporary or 'pop-up' use of buildings and spaces helps to drive vibrancy and economic activity, whilst making more efficient and attractive use of otherwise empty space.
Business rates and organisational capacity can restrict businesses from operating 'temporary uses', so we can explore providing tailored business support for this activity, and offering business rates relief to these operations (following the outcomes of the Government review in autumn 2021).
---
Making use of upper floors
Floors above commercial units are significantly under-used, dominated by storage for retail units and empty space.
Introducing 'mixed-use' and 'non-retail use' to the city centre's upper floors will allow more of this space to be actively used, but conversions of these buildings are complex.
We could offer a planning clinic to provide advice and explore business rates reliefs for occupation (following the outcomes of the Government review in autumn 2021).
---
Tours and experiences
Bringing people into empty spaces could both enrich cultural and experience-based activity and make better use of space.
We could promote this opportunity to landowners, and offer of business support to tour and experience providers.
---
My City Centre York
Delivering a new vision for York's city centre