Celebrating heritage and making modern history
After listening to your views as a vital part of the My City Centre York project, the My City Centre York vision has now been approved.
The historic nature of York is a key factor in why it is cherished by so many, and a major driver of the city economy - through its role in our identity as a place to live and do business, to the visitors it attracts.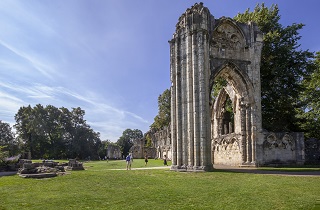 Adapting the historic environment to change comes with more complexity, cost and risk than usual, and as the city centre enters a period of significant upheaval, we must ensure that our processes are responsive, and the right balance is struck, between preserving what is most important and allowing new life to be breathed into the city.
Ideas for celebrating heritage and making modern history
Recognise the huge changes facing city centres, and the role of planning in allowing buildings to adapt for modern uses.
Support the re-use and re-purposing of historic buildings and spaces to avoid them becoming redundant or under-used.
Provide more planning flexibility for the type of uses that will most benefit residents and the city.
Provide more early support for planning applications.
Explore an interactive 'living heritage' app to allow the public to engage live with the historic city around them.
Proposed changes for celebrating heritage and making modern history
Some of the things that could change include:
---
Planning and change
Accelerated by communications technology, the scale, nature, and in particular, the pace of change currently underway in our city's and high streets, is unprecedented. Our buildings must respond to this, and in an ever more competitive world, those least responsive cities will be left behind.
Our vision could include a statement to these effects which would be acknowledged by planning as a 'material consideration' to be weighed in the balance in the determination of relevant planning applications within the city centre.
---
Re-use of historic buildings
Historic buildings are costlier and more complex to maintain and adapt than their counterparts. To allow this investment to take place, commercially productive uses must be found for their spaces. The government has allowed greater flexibility around change of use through 'Permitted Development rights'.
Whilst issues with an overly broad approach on this has been identified locally, the re-use and re-purposing of historic buildings and spaces is recognised as a positive to avoid them becoming redundant or under-used.
We will also prepare Supplementary Planning Guidance to give greater clarity to landowners on the use of sustainable and green technologies in historic buildings.
---
Planning flexibility for beneficial uses
Where planning permission is still needed to change the use of a historic building, and less than substantial harm is proposed, we could explore a policy which permits 'greater degrees of harm' for schemes which include uses that are most beneficial to communities (for example affordable housing).
We could explore the establishment of a hierarchy of 'most beneficial uses' to support decision-making and influence scheme development.
---
Pre-application support
Guidance and advice at a formative 'pre-application' stage of working up plans for buildings can save abortive costs and time. Smaller conversions are generally more complex and time consuming with a higher cost per square metre than larger ones – landowners for smaller schemes generally have fewer resources at their disposal than those for larger schemes.
We can explore establishing a planning clinic to help shape small-scale historic building conversion projects in the City Centre (where planning permission is still required) prior to planning applications being produced. This could help to streamline and facilitate the process of change in the historic environment.
---
Living heritage app
Working with partner organisations we could explore the development of an application for the public to engage with the historic city around them, in real time, on their mobile devices, as they navigate York's city centre.
This could allow greater interpretation and engagement with the historic city, driving increased footfall, and enriching the visitor and public experience. It could be an additional platform to share the vast array of information held by stakeholders and community organisations, and could include a commons platform for individuals to add their own stories and experiences.
Users could filter the information based on keywords or characteristics, to generate their own walking tours of the city.
---
My City Centre York
Delivering a new vision for York's city centre