Making tourism work for York
After listening to your views as a vital part of the My City Centre York project, the My City Centre York vision was approved.
Tourism is a core part of the York's economy, supporting many businesses and jobs, particularly for those who are more deprived, and those who rely on the flexibility of part time employment.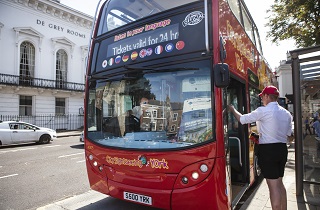 Without visitors to the city we would also struggle to sustain the wide variety of shops and facilities which we benefit from. Tourism does create impacts too though - the sector tends to be less well paid, and there is a sentiment in feedback that more facilities and amenities are directed to visitors than to residents.
We want to:
rebalance our relationship with tourism
bring greater benefits from tourism
reduce some of the negative impacts of tourism, caused by a minority who don't respect our city
The visionIdeas for making tourism work
Develop a strategy with Make it York which ensures that the essential tourism sector is sustainable, and targets those visitors who respect our city and benefit our economy.
Allow visitors to make voluntary financial contributions which offset their impact and support our communities through a 'York Gift' scheme.
Improve the quality of jobs in the tourism sector.
Potential changes to make tourism work
Some of the things that could change include:
---
Sustainable tourism strategy
Working with Make it York we could develop a tourism strategy, with associated marketing and promotion plan, which seeks to maintain and grow pre-Coronavirus pandemic volumes of tourism, but improves the benefits and reduces any negative impacts.
This could be achieved by attracting visitors who would stay longer, have more cultural emphasis to their trips, enjoy the wider region, and promote the city as a family destination.
---
York gift scheme
Irrespective of the sustainable tourism strategy, trips to the city will still have impacts on the fabric, environment and amenity of the city centre for residents. We could establish a package of voluntary measures to allow visitors to contribute financially to their impacts.
This could range from simple tap and pay at spaces and attractions, to contributions 'activating' public spaces in some way, or measures which target those most harmful or least beneficial types of visit (such as coach trips).
Any money received via the York gift scheme could create a fund used to deliver measures set out in the My City Centre York vision, to maintain the city, to provide facilities for residents, or to support employees in the tourism sector.
---
Improve tourism employment
Working with operators in the sector, we could seek to directly support those who work in tourism, through a coordinated set of actions to improve pay and career progression, supporting the key components of the Good Business Charter, or coordinated skills and employability training for those working in tourism.
---
Prioritising residents
We will explore ways to make accessing the city centre's facilities amenities and businesses more affordable or accessible for residents of the city or local area in comparison to visitors from further afield. This could be through measures such as reduced transport costs, resident business loyalty schemes (including reinvigoration of the York Card), or priority access to services and facilities.
---
My City Centre York
Delivering a new vision for York's city centre