Embracing our riversides
After listening to your views as a vital part of the My City Centre York project, the My City Centre York vision has now been approved.
The River Ouse and the River Foss are a defining characteristic of York's city centre, being a determining factor in the founding of the city; they have had a formative influence on the urban form throughout its development.
The function of York's rivers has changed over time, from commerce and servicing, to currently being principally amenity and recreation related use.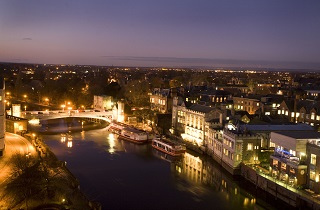 Climate change is affecting how our rivers are managed and how they interact with the city.
The constrained city centre turns its back on, and presents a poor environment to the rivers in many places – a huge lost opportunity to celebrate and enjoy these spaces.
Our ambition is to redefine York'srivers to create high quality spaces and routes which contribute fully to the city's unique sense of place, whilst also ensuring river safety and protecting ecology.
Ideas for embracing our riversides
Better celebrate the historic, cultural and environmental benefits of our 2 rivers, and provide riverside spaces and links for local communities.
Lobby and bid for government funding to enable the creation of new riverside walkways at Coney Street and Castle Gateway, and progress a new Ouse footbridge.
Improve the river corridors as sustainable travel routes to and through the city centre.
Promote 'living well with water' to manage flooding impacts and ensure river safety.
Potential changes to embracing our riversides
Some of the things that could change include:
---
Celebrate our rivers
We can actively pursue, and require private developments to establish, a positive relationship with our rivers wherever relevant, to establish:
new and improved amenity spaces and access
better views and settings
more opportunities for recreation and leisure
---
Creating new connections
We will deliver the new River Foss walkway and crossing at Piccadilly as part of the Castle Gateway Masterplan, and support the walkway project between City Screen and Ouse Bridge as part of the proposed 'Riverside Quarter' development on Coney Street. We can also continue to explore plans for a pedestrian bridge over the Ouse at North Street Gardens and City Screen.
All of these projects would be delivered with world class new and improved open space and facilities, and would provide sustainable transport improvements integrated with the wider city centre access and parking review measures.
---
River corridors for sustainable travel
We can look beyond the city centre to make improvements to the river corridors which encourage walking, cycling and other modes of travel, for example, those being made as part of the York Central scheme.
Safe attractive and direct routes will be well used.
---
Living well with water
We can continue to work with partners including the environment agency, police and rivers trust to embed the infrastructures and behaviours which can best manage the flooding and river safety.
---
My City Centre York
Delivering a new vision for York's city centre