A family friendly city centre
After listening to your views through the My City Centre York project the My City Centre York vision has been approved.
Families of all types are a key component of a vibrant and well-balanced city centre, bringing footfall, activity, social interaction and spend.
Feedback tells us that whilst the city is a popular destination for visiting families, it is less well used by local residents, with issues cited around:
affordability
ease of access
suitable facilities
appropriate attractions
threatening or unwelcoming atmosphere at certain times
Our proposed response incorporates more to attract local families into the centre, as well as improving the basic facilities in town. This will also benefit visitors to the centre.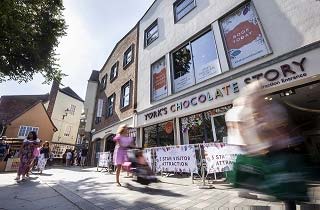 See the My City Centre York vision theme: 'A city centre which is welcoming to all' for more information about proposals to manage behaviours at busy times. The forthcoming city centre access and parking review will also set out measures designed to create a more family friendly centre, particularly for local families.
The vision for a family friendly city centre
Create exciting new play spaces in the city centre.
Use open space for cultural and family activities.
Encourage venues and spaces that are used by people of all ages.
Improve toilet provision and facilities.
Improve information on city events for residents.
Provide more covered and indoor spaces to spend time in all weather.
Support new experience based attractions in the centre.
Potential changes to create a family friendly city centre
Some of the things that could change to create a family friendly city centre include:
---
Play spaces
The city centre contains no children's play equipment, with Rowntree Park, Navigation Road play area, Clarence Gardens play area (off Haxby Road), and Dewsbury Terrace play area (off Lower Priory Street) being the nearest facilities.
There are enormous opportunities to work with partners to provide dynamic innovative play spaces as part of the city's existing open space and public realm. This doesn't have to mean traditional playgrounds. Spaces could be designed to use existing buildings, and play off the City's unique heritage character. Smaller play-spaces spread across the centre could spread benefits and impacts.
Key development and regeneration sites could be designed around play space, and planning contributions could help to fund them.
---
Cultural and family activity in open spaces
Bringing open spaces to life through cultural activity already happens in events such as Jorvik Viking Centre, and the Railway Museum's plans at the new York Central open spaces will set an exciting benchmark which could be replicated elsewhere, to make the best use of space, and improve learning outcomes.
The city fabric could be a fantastic backdrop to draw more people into events, and enrich with activity.
We can work with cultural partners to deliver more of this activity and make sure that spaces have the infrastructure to allow it to happen.
---
Venues and spaces for all ages
Innovative multi-purpose community spaces have a broad inter-generational appeal due to the range of services they offer, community interest, and diversity.
We will encourage more of these types of spaces in the centre.
---
Improve toilets and facilities
Toilets facilities are essential; a lack of provision can prevent some people from using the city centre, across all generations.
We will undertake a review of provision, and seek to provide sufficient fit-for-purpose, publicly available facilities in the city centre through regeneration schemes and working with public and private partners, as well as reviewing our own assets in the city centre area, and seeking funding such as through the current 'Changing Places' programme.
---
Improve event information
Whilst there are many providers of information on events and activities for families in the centre, local families feel that information availability can be improved.
We will explore ways to work with existing and new partners to improve the availability of information and promote events, and will signpost to these resources from our own websites and online media presence.
---
Covered and indoor spaces
The open spaces and parks of the city are well used through the summer months, but there are limited spaces for families to get out of winter weather when using the city centre. Facilities such as Sheffield's Winter Gardens, covered markets, and arcades prove popular elsewhere, and will increase footfall and activity.
We will explore ways to make this type of provision available, in a way which is sensitive to York's historic context.
---
Experience based attractions
Experience-based attractions appeal across the generations and have more recently found their place amongst the high street. Escape rooms, axe-throwing, mini-golf and more are now a regular feature of the high street.
We will support and encourage more of these uses where they contribute to diversity of the high street, particularly where they provide facilities that are attractive for residents as well as visitors.
---
My City Centre York
Delivering a new vision for York's city centre