The masterplan proposal for York Station Front is based on 8 key features which work together to improve the use of space in front of York Station.
The front of the station is an awkward and often congested place. Taxi ranks, bus stops, drop-off points and pedestrians are all crammed into a small area with narrow walkways. Team Room Square is often clogged up with cars. There is only limited public space to enjoy an area which features some of the city's most striking heritage.
In the proposals for York Station Front, Tea Room Square would be transformed into a high quality shared public space, with limited access for station deliveries. It would play a key role in creating a pedestrian-friendly gateway to the city.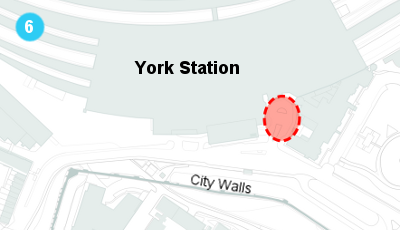 Proposal for Tea Room Square
More information about York Station Front proposals
Find out more about the ideas for transport links with York Station Front, including facilities for pedestrians, cyclists, buses, taxis and drop-offs and parking.
Information is also available about the heritage of the York Station Front area, and the delivery of this phase of works amongst the wider masterplan for this part of York.
Also see
York Station Front (Major Projects Team)