The master plan proposal for York Station Gateway is based on 8 key features which work together to improve the use of space, much of which is currently dominated by the redundant Queen Street Bridge.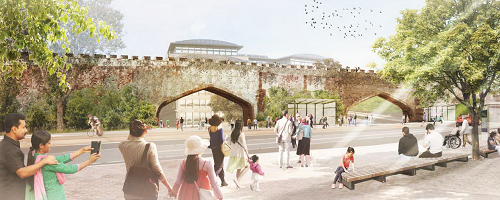 Artists impression of the removal of Queen Street Bridge
Removing the bridge will allow us to change the layout of the area, by reorganising the roads and entrance to the station. As well as improving transport links to and from the station this will:
provide better views of City Walls and Victorian archways
allow the sloped earth rampart to the City Wall to be reinstated, improving the setting of this ancient monument
create space and improved views of buildings from the Victorian railway era, including York RI, railway worker's cottages, RI Gym, Water Tower and Ivy Cottage
The removal of vehicles from the station's 'Porte-Cochere' (the current taxi-rank and drop-off area) will allow it to be refurbished and the architecture of the station to be enhanced.
'Parcel Square' was badly damaged by a bomb during World War II and the replacement buildings do not match the original architecture of the station. Reorganising Parcel Square would make space for taxis and allow for more sympathetic restoration of the station facade.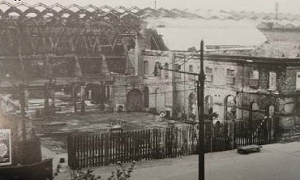 Parcel Square after the bombing raid, 1942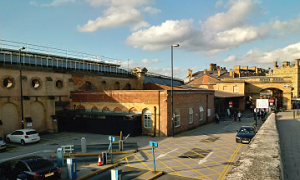 Replacement buildings in Parcel Square, built since the bombing raid
More information about York Station Gateway proposals
Find out more about facilities for pedestrians, cyclists, buses, taxis and drop-offs and parking. Information is also available about the delivery of this phase of works amongst the wider master plan for this part of York.
Also see
York Station Gateway (Major Projects Team)