The masterplan proposal for York Station Front is based on 8 key features which work together to improve the use of space in front of York Station - removing Queen Street Bridge would give the space needed to make these changes.
The road could then be moved further away from the City Wall to improve its setting. The Victorian bridge was built when trains used the lines through to the old railway station (now the West Offices) - it has not been needed since the 1960s. The bridge is built very close to the rampart of the city walls, and hides a large section of the walls from view. It also obscures several of the Victorian railway-era York RI buildings.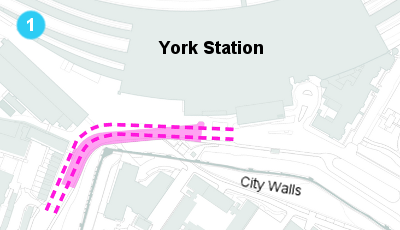 Proposed changes to Queen Street Bridge
More information about York Station Front proposals
Find out more about the ideas for transport links with York Station Front, including facilities for pedestrians, cyclists, buses, taxis and drop-offs and parking.
Information is also available about the heritage of the York Station Front area, and the delivery of this phase of works amongst the wider masterplan for this part of York.
Also see