The master plan proposal for York Station Front is based on 8 key features which work together to improve the use of space in front of York Station.
It can be awkward and confusing for people leaving or arriving at the station on foot; visitors are often unsure where to go next. Taxi ranks, bus stops, drop-off points and pedestrians are all crammed into a small area with narrow walkways, which creates congestion.
A wide pedestrian crossing in front of the station entrance and wider footpaths would improve the experience and make the pedestrian route into the city centre (and other areas) much clearer.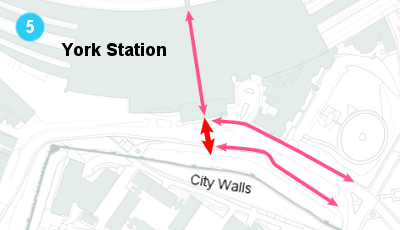 Proposal for pedestrian crossing
More information about York Station Front proposals
Find out more about the ideas for transport links with York Station Front, including facilities for pedestrians, cyclists, buses, taxis and drop-offs and parking.
Information is also available about the heritage of the York Station Front area, and the delivery of this phase of works amongst the wider master plan for this part of York.
Also see
York Station Front (Major Projects Team)