The master plan proposal for York Station Front is based on 8 key features which work together to improve the use of space in front of York Station.
Current parking facilities cause congestion within the Tea Room Square because cars and pedestrians struggle to pass through the same space.
The proposals move the short stay car park from the north train shed to south of the station; long and short stay parking would then be accessed from Queen Street through a one-way loop road around York Railway Institute gym.
In the longer term, the master plan sets out how the existing car parking on the eastern side of the station could be combined into a new multi-storey car park (subject to a separate planning application). During the first phase, as much car parking as possible will be retained on the eastern side, and we're seeking temporary permission for extra car parking on the western side, to make sure there's no change in the total number of car parking spaces.
This temporary parking is separate from and does not include any parking in the York Central master plan.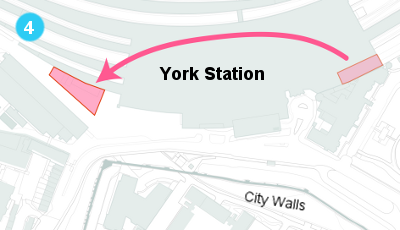 Proposals for parking
More information about York Station Front proposals
Find out more about the ideas for transport links with York Station Front, including facilities for pedestrians, cyclists, buses, taxis and drop-offs and parking.
Information is also available about the heritage of the York Station Front area, and the delivery of this phase of works amongst the wider master plan for this part of York.
Also see
York Station Front (Major Projects Team)