The master plan proposal for York Station Front is based on 8 key features which work together to improve the use of space in front of York Station.
During our York Central consultations you told us that the station front needs to provide a better transport interchange, especially for buses. Moving the bus stops to the south of the entrance would create a better waiting environment for passengers and drivers.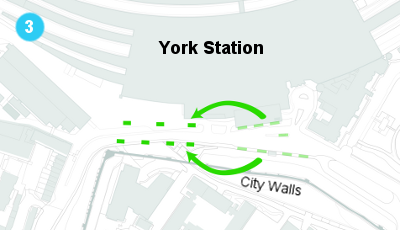 Proposal for bus stops
More information about York Station Front proposals
Find out more about the ideas for transport links with York Station Front, including facilities for pedestrians, cyclists, buses, taxis and drop-offs and parking.
Information is also available about the heritage of the York Station Front area, and the delivery of this phase of works amongst the wider master plan for this part of York.
Also see
York Station Front (Major Projects Team)