The future of the Guildhall
In August 2021, the University of York signed a 15-year lease of the Guildhall.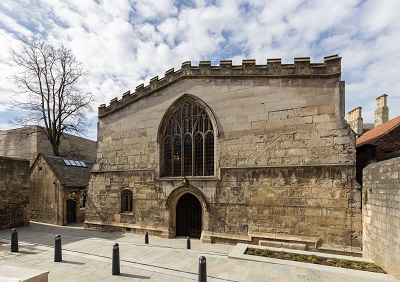 Front entrance to the Guildhall (credit: VINCI Construction UK).
The building will be leased to York Science Park (YSPL), a subsidiary of the University of York. York Science Park offer support for entrepreneurs and start-ups looking to grow. Find out more about the future of the Guildhall.
The coronavirus pandemic has changed how we live and work. In response to these changes, the Guildhall will provide a flexible and collaborative workspace for local businesses.
The newly refurbished Guildhall will provide greater access to local residents, through the creation of a new restaurant and public space, and members of the public will be invited to a series of scheduled events, offering an opportunity to learn more about the history of the building. More details will be announced over the upcoming months as the restoration works near completion.