The complex contains a collection of Grade I, II* and II listed buildings built around the 15th century hall and riverside meeting room.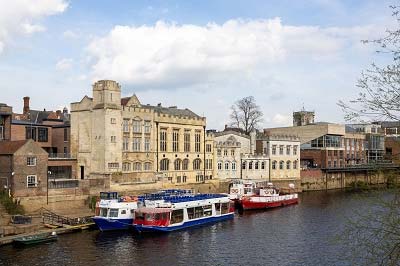 A view of the guildhall from across the river Ouse (credit: VINCI Construction UK).
It's been a seat of civic governance in York since the 1200s, and has previously hosted:
council meetings
mayoral ceremonies
The historic Guildhall building has been restored and redeveloped for the 21st century. The building will provide modern business space with public access, conference, and events spaces. This project has allowed the Guildhall to retain its civic use.
Work to restore and repurpose the Guildhall complex began in September 2019. This restoration project was completed in April 2022.
A series of YouTube videos have been created to demonstrate the milestones of the project.
View video updates:




Also see