Redevelopment of York's Guildhall
A once in a generation investment in one of York's most historic buildings.
Read more about:
---
The redevelopment
Until now, the Guildhall had only received reactive repairs since extensive rebuilding works following bombing raids in 1942 that caused serious damage to the buildings.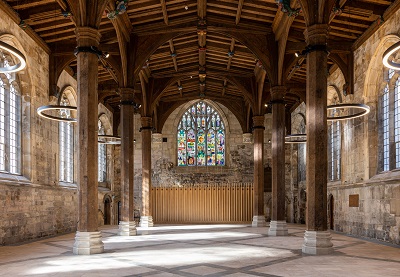 The main hall in the Guildhall (credit: VINCI Construction UK).
Incorporating modern elements around the historic core of the Guildhall, the redevelopment will secure the long-term future of the site, offering:
high quality office space
spaces for community use
a café
a new riverside restaurant
better access for local residents
Urgent action is being taken to address significant structural problems with the riverside tower, including subsiding and cracking. The main roofs will also be replaced to prevent further water damage.
The £21.7m construction will see the building:
stabilised through major underpinning
protected from water damage
given a new lease of life
---
Overcoming engineering challenges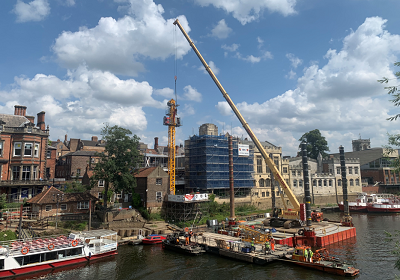 A crane in use during the construction of the Guilhall.
The River Ouse was used to transport materials to and from the site to avoid construction traffic in York's narrow city centre streets. Due to the Guildhall's central riverside location, the Canal & River Trust enabled contractors Vinci to use the river to erect an on-site Tower Crane and provide access for deliveries, which would otherwise be impossible via road. Use of the river has also reduced road deliveries into the heart of the city. Over 1,000 river deliveries were made through the contract period to bring in equipment and materials.
When heavy construction work at the site finished, a tower crane onsite was dismantled by a separate 100 tonne crane that worked from the river.
---
Local companies involved in preserving the Guildhall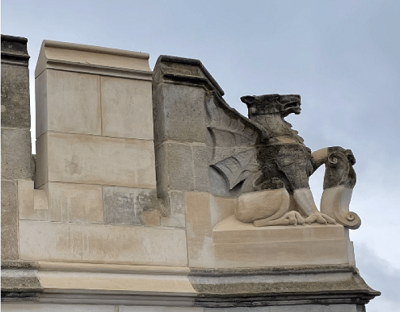 The restored griffin statues at the Guildhall (credit: Pinnacle Conservation Ltd).
Throughout the restoration project, local materials, craftspeople, and sub-contractors have been used wherever possible to support local businesses and contribute to the local economic recovery.
Specialist repairs to the stonework and windows of the historic building fabric were carried out by Pinnacle Conservation Ltd, whose in-house craftspeople undertake heritage restoration and conservation across the country, from their base in York.
---
Sustainability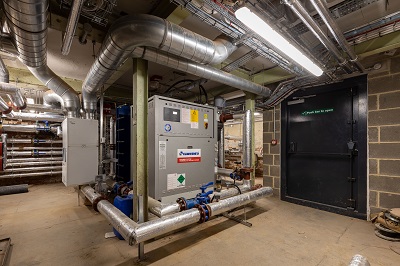 The river water source heat pump used to heat the Guildhall (credit: VINCI Construction UK).
A River Water Source Heat Pump has been installed to provide low carbon heating to the 15th century Guildhall.
The location of the Guildhall, on the banks of the River Ouse, provides the opportunity to take advantage of this low-carbon energy source.
When compared with fossil fuel energy solutions, the installation of the River Water Source Heat Pump will create carbon savings of around 40 tonnes per year.