Funding of the project
Funding for the £21.7m restoration and redevelopment work was provided by York City Council, the York and North Yorkshire LEP and West Yorkshire Combined Authority through respective HMG Growth Deal contributions and the Getting Building Fund.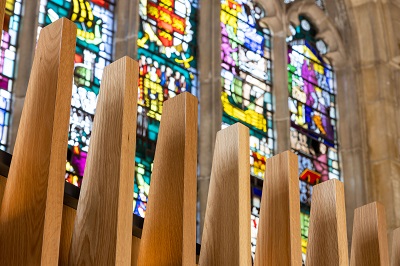 Oak screen fins and stained glass windows in the main hall of the Guildhall (credit: VINCI Construction UK).
The project received £2.34 million from the Leeds City Region Enterprise Partnership, delivered in partnership with the West Yorkshire Combined Authority through the Leeds City Region Growth Deal.
This represents a £1 billion package of government investment to accelerate growth and create jobs across Leeds City Region. Office fit-out at the Guildhall is supported by investment from the Government's Getting Building Fund, allocated by York & North Yorkshire Local Enterprise Partnership.
A report taken to Executive in February 2019 approved the delivery of the scheme's budget.