We'll publish details of new consultations on this page as soon as they're available; find out more about our consultation and research activities, such as annual surveys, statutory research and pieces of research.
Talkabout citizens' panel
We're currently updating Talkabout, our citizens' panel, which is one of the ways you can give us your feedback and views and influence what happens in York.
---
Fulford School Public Consultation Evening
Tuesday 27 April 2021 4.30-7.30pm (Pre-booking essential)
A planning application for the School expansion project including a new two-storey teaching block, removal of temporary buildings, provision of two temporary buildings, installation of an external lift to Bronte Building and the creation of vehicle access to the southern boundary of the site has now been validated by the City of York Council and is available for viewing and comment on our planning access webpage by searching for the following reference number 21/00737/FULM.
The School appreciates the level of local interest this application has attracted however, we remain conscious of the current Covid 19 legislation concerning access to the school by the general public.
To ensure we accommodate as many people as possible at a consultation event, we will be offering 10-minute bookable slots to view larger scale plans that have been submitted and are accessible as detailed above.
Appointments can be booked via the consultation@fulford.york.sch.uk email address or telephone Esta Ismail, PA to the Headteacher and CEO on 01904 633300. Appointments will be allocated on a first come first served basis only.
Appointment slots will be restricted to one social bubble at a time so please ensure you adhere to this when booking your slot. We request that you name all those attending to enable the school to comply with our internal risk assessment for 'track and trace' if required.
The event will be signposted and held in the Sports Hall at the rear of the school with a strict one-way system in place. It is essential that those visiting adhere to current legislation requiring the wearing of face masks in indoor spaces and observe the 2-metre separation rule with those outside of your bubble. Hand sanitising stations will be available at the entrance and exit of the Sports Hall.
In accordance with Covid guidelines, we are required to prepare the Sports Hall for use by our students the following day, the event will therefore close promptly at 7:00 pm. We would therefore request you respect your 10-minute time slot to enable as many people to access the event as possible.
---
Additional Licensing Scheme
We are seeking views on our proposal to introduce a targeted Additional Licensing Scheme for Houses in Multiple Occupation (HMOs) to ensure our city has a safe, well-managed and professionally run private rented sector. For more information please visit our Additional Licensing Scheme Webpage
To have your say in the consultation please complete our Licensing Scheme survey.
Once we have consulted with our residents and stakeholders, the council will use the findings to inform our decision. We will publish our decision in Autumn 2021.
Consultation closes on 27 June 2021
---
Help to co-design the York Community Woodland
City of York Council is seeking feedback from residents and local organisations on its plans to create a vast community woodland on 194-acres of land to the West of York, near Knapton.
As part of its commitment to creating a cleaner, greener city and its ambitious target of reaching net zero carbon by 2030, the council plans to plant 50,000 trees on the site by the spring of 2023. As well as acting as a carbon sink, the green space will boost the health and mental wellbeing of local people by giving them somewhere to exercise, spend time outdoors in nature and a place for quiet contemplation. It will be an important wildlife habitat, boosting biodiversity in the city, as well as creating new green jobs and volunteering opportunities, and helping to develop green skills.
In recent months the council has completed a detailed land character assessment to explore the site's existing flora and fauna, landscape, soil types, drainage features and access points. This process has given the council a good understanding of the opportunities and constraints presented by the site, and helped to shape a series of different design concepts showing how the woodland could look.
Local people are now being asked to share their views on the design concepts so that their feedback can be used to help shape the council's plans for the site, as well as offering an insight into the role that residents and local groups can play in its creation and ongoing management. The council is also inviting local people to suggest possible names for the new woodland that reflect the heritage of the local area and tie in with what it's trying to achieve.
Please view the woodland concept designs to see what the woodland could look like, details on how to then submit your feedback are below.
Get involved by:
For more information on the York Community Woodland project please visit our York Community Woodland webpage.
Consultation closes on 26 May 2021
---
Potential new locations for blue badge parking
We are asking Blue Badge holders for their views on potential new car parking bays to improve access to the city centre. We would also like to hear from taxi drivers and neighbouring residents and businesses about the impact the changes would have on them.
Have your say by completing our online survey. You will be shown a number of potential places for Blue Badge parking and asked questions about the locations, types of bays and other options at each location.
You can also register for an online workshop where our transport officers will hear your views and answer any questions about this.
Consultation closes on 13 May 2021
---
Have your say on how we could help residents recycle even more
City of York Council would like to hear residents' views on current waste collections and what the council can do to help people recycle even more.
At a time when the focus on improving our environment has never been more important, we want to explore how we can collect recycling in a way that minimises our impact on the environment, improves the service on offer for residents and maximises our opportunity to recycle.
Get involved by:
Completing our simple online recycling changes survey
Upon request, paper copies are available at libraries and Explore Centres from 12 April (when they all fully reopen) and can be sent back to our FREEPOST address
This review will not affect household waste (black bins) and residents who receive a free garden waste collection will continue to do so. The council wants to explore how it collects recycling and what can be done to help increase recycling rates across the city, and improve the service for residents. The changes propose increasing recycling capacity with new and different containers so residents can collect more of the existing recycling materials, as well as considering moving to a year round garden waste collection service. In the absence of clarity of the government waste and resources strategy, increasing collections to include food waste and additional types of plastics will be considered at a later stage. The options were considered by Scrutiny on 25 March and have been developed to consider how the council can reduce its carbon emissions from its frontline operations and from its onward processing.
Cllr Paula Widdowson, Executive Member for the Environment and Climate Changes said:
"We want to hear residents' views on our current waste collections, as this is a key part of improving the service in the future. Residents are doing a fantastic job of recycling in York. Kerbside recycling rates in York are doing really well, with around 43 per cent either being reused, recycled or composted. However, it has remained at this figure for a number of years and we now have a real opportunity to make a real difference to help York become a cleaner and greener city, by introducing more efficient waste vehicles and helping residents to recycle even more. Although increasing recycling alone will not reduce the city's carbon output, it will establish a clear expectation that the council will, in partnership with residents, take every step possible to reduce our impact and leave the environment in a better place than we found it."
This supports the council's ambition for York to be carbon neutral by 2030. The council declared a climate emergency in 2019, recognising that climate change and sustainability needs to be a priority. Recycling waste is cheaper than collecting items in black bins (household waste) and therefore residents can help the council save money whilst protecting the environment. Following the 6 week survey, a report will be taken to Executive on 22 May before being rolled out city wide.
Consultation closes on 11 May 2021
---
Draft Vehicle Crossing Policy
We're proposing to adopt a vehicle crossing (dropped kerb) policy to support the vehicle crossing application process.
City of York Council, as the local highway authority and under Section 184 of the Highways Act 1980, has the power to grant permission for a vehicle crossing to be constructed, enabling a motorised vehicle to drive over a footway or verge with a kerb.
This draft vehicle crossing policy aims to support officer decision making when considering applications for new and improved vehicle crossings. See details of the current process for dropped kerbs applications.
Feedback received through the consultation will then be analysed and a report assessing options and making recommendations for a final policy will be presented to the Executive Member for Transport.
Consultation responses should be sent to streetworks@york.gov.uk before 28 April 2021. You can read the consultation privacy notice online.
Consultation closes 28 April 2021
---
Our Big Conversation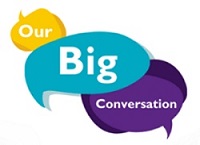 Over the next 12 months taking part in 'Our Big Conversation' will give you the opportunity to shape our response to the big challenges facing York, such as:
our response and recovery after the Coronavirus pandemic
the climate emergency
how we move around the city
defining an exciting future for our city centre and district centres
where we live and work, what jobs are available
how we make sure York's economy works for all residents
---
My City Centre York
Help us to shape a city centre where the people of York love to spend time, live and work. My City Centre York is a response to the huge challenges facing the high street. Our city centre has always evolved, but changes to the way people shop, bank, access services and spend money mean that this will be quicker and more dramatic than we've seen before. See more information about My City Centre York, fill in our questionnaire, use or view an interactive feedback map, or find out about other events and activities.
The My City Centre York project has been paused temporarily as staff are redeployed to the coronavirus emergency response. Thank you for all responses to date, which will be taken into account when we recommence. We look forward to resuming discussions on the long term vision for the city centre soon.
---
Age Friendly York
We want older residents to help shape where they live by working with local groups, businesses and the council to identify and make changes to their physical and social environments.
Age Friendly York will:
enable people to live healthy and active lives
encourage communities to treat people with respect, regardless of their age
We will ensure decisions are resident focused by:
providing the opportunity to feedback at any point, through all aspects covered by Age Friendly York - there is no wrong time to have a view
to ensure you have access to what the key findings are from the consultations and how these directly inform the action plan
to ensure information is available about what has been achieved so far
We welcome your comments if:
you live in York and are an older person or have an interest in ensuring the best experience for people growing old in York
you work for an organisation that meets the interest of older people in York
you are part of a volunteer group that engages with older people
you are a carer or have a neighbour or relative that is an older person in York
We are therefore building the opportunities for continual feedback. Whether you have a single comment, want to add an additional comment to an Age Friendly York survey you have completed or want to provide your views for the first time, you can do so via these ongoing online surveys:
You can also provide general feedback via email: agefriendlyyork@york.gov.uk or Twitter: @AgeFriendlyYork.
For more information see: Age Friendly York.
---
Recently closed consultations
Acomb Front Street (closed 18 April) - We asked businesses, residents and visitors what they love and what they'd like to change about Acomb's Front Street to inform an action plan for the local area.
Bootham/Gillygate/St Leonards Place Junction Renewal Survey (closed 31 March) - The traffic and pedestrian signals are due to be replaced at this junction. We asked for views on a possible alternative layout for the junction which could be implemented at the same time as the signal replacement.
Homeshare York (closed 22 March) - We looked at how we offer Homeshare in York and if there are any changes we could make so that it better suits the needs of the local community. For more information you can visit our Homeshare Webpage
Smokefree play parks in York (closed 19 February) - We asked for views on plans to introduce smoke free zones in the areas of the city where smoking is likely to be most visible or harmful, such as within children's play parks in the city which are managed by the council.
2021/2022 Budget Consultation (closed 31 January) - We asked for feedback on how to use our 2021 to 2022 budget to stabilise our financial position, support local communities and continue to deliver our services. Results will be published on York Open Data in the coming months.
---
Also see
Business Intelligence Hub
Customer and Corporate Services