We'll publish details of current consultations on this page as soon as they are available, those which have recently closed are listed at the bottom. To find out more about the types of consultation and research we undertake such as annual surveys and statutory research please visit our consultation and research activities webpage.
Any published results will be available as depersonalised raw survey data or findings reports on our Open Data Platform. Details of other ways to access anonymised results may also be included in the recently closed consultations section.
Talkabout citizens' panel
We're currently updating Talkabout, our citizens' panel, which is one of the ways you can give us your feedback and views and influence what happens in York.
---
Enforcement Policy
The City of York Council can take enforcement action under diverse legislation to help make the city safer, cleaner and fairer for residents, visitors and businesses. We want to understand which areas our residents and businesses feel are most important to help prioritise our resources and shape our approach to enforcement. Please tell us your views and priorities by completing the Enforcement Policy Consultation online survey.
Consultation closes Sunday 31 July 2022.
---
Early Years & Childcare
This survey is to find out from parents and carers what their needs are in relation to early years and childcare places in York. The information will help us plan for sufficient high-quality early years and childcare for families who need it.
If you have yet to find an early years and childcare place for your 0- to 14-year-old (or up to 18 years for children with a disability), or if your child is attending a childminder, pre-school, day nursery, school nursery, before/after school care or holiday club, please complete our Early Years and Childcare survey.
Consultation closes Sunday 7 August 2022.
---
Our Big Conversation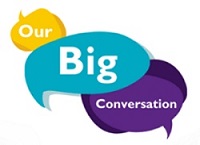 Taking part in 'Our Big Conversation' will give you the opportunity to shape our response to the big challenges facing York
What will York look like in 10 years time? Have your say about the big challenges affecting York:
the climate emergency
where we live and our health and wellbeing
how we make sure York's economy works for all residents
This consultation is closed for now.
---
Age Friendly York
We want older residents to help shape where they live by working with local groups, businesses and the council to identify and make changes to their physical and social environments.
Age Friendly York will:
enable people to live healthy and active lives
encourage communities to treat people with respect, regardless of their age
We will ensure decisions are resident focused by:
providing the opportunity to feedback at any point, through all aspects covered by Age Friendly York - there is no wrong time to have a view
to ensure you have access to what the key findings are from the consultations and how these directly inform the action plan
to ensure information is available about what has been achieved so far
We welcome your comments if:
you live in York and are an older person or have an interest in ensuring the best experience for people growing old in York
you work for an organisation that meets the interest of older people in York
you are part of a volunteer group that engages with older people
you are a carer or have a neighbour or relative that is an older person in York
We are therefore building the opportunities for continual feedback. Whether you have a single comment, want to add an additional comment to an Age Friendly York survey you have completed or want to provide your views for the first time, you can do so via these ongoing online surveys:
You can also provide general feedback via email: agefriendlyyork@york.gov.uk or Twitter: @AgeFriendlyYork.
For more information see: Age Friendly York.
---
Fulford Recreational Development Proposal
We are currently consulting residents on designs for the redevelopment of the sports facilities on the Parish and Persimmon Fields at School Lane, Fulford. As part of the Germany Beck housing development Persimmon have provided a parcel of land and financial contribution (S106 Recreational Payment) for the development of outdoor sports space and facilities for local residents.
In the Fulford and Recreational Development Proposal consultation we are asking residents who live locally to the fields to review the 3 proposed designs for the redevelopment and provide their feedback on which design they would like to be implemented. This online consultation is open from Friday 1 July to Sunday 31 July 2022.
We are also holding an in person consultation in the Library Room at Fulford Social Hall, School Lane, Fulford, YO10 4LS between 11.00am and 3.00pm on Sunday 17 July, where you can view these designs and speak to the officers involved.
Consultation closes Sunday 31 July 2022
---
Tang Hall Lane Cycle Improvements
We're proposing the installation of an alternative cycle connection between Tang Hall Lane and the Foss Islands Path.
The current junction that cyclists travelling along route 66 of the National Cyclist Network must use is considered dangerous and so the aim of this scheme is to improve the safety and convenience for cyclists using this route by providing an alternative way to connect between the road and the cycle path.
We want to hear your thoughts on the Tang Hall Lane Cycle Improvements and the proposed changes prior to formal decisions being made.
Consultation closes Monday 31 October, 5.00pm.
---
Coordinated Admission Consultation for 2024-2025 school year
In line with the School Admissions Code 2021, we hold a coordinated admission consultation on behalf of schools within York and the School Admission Authorities.
The draft admissions policies, published admission numbers and related documents for schools in the city of York advise how admissions applications and decisions will be made for the 2024-2025 school year.
Take part in the Coordinated Admission Consultation for School Admissions in September 2024-2025.
Consultation closes Sunday 13 November.
---
Recently closed consultations
Enhanced Partnership consultation: closed 8 September. We asked for your views on a statutory Enhanced Partnership (EP) with local bus operators.
York Pharmaceutical Needs Assessment 2022 - 2025 - closed Monday 29 August: This was an opportunity for you to comment on the draft of the 2022 - 2025 Pharmaceutical Needs Assessment (PNA) for York
Heslington Article 4 Direction - closed Tuesday 26 July 2022: We asked for your views on a non-immediate Article 4 Direction in parts of the Heslington Conservation Road Area
Ostman Road improvements for pedestrians and cyclists - closed 30 June: We wanted to hear your thoughts on the proposed changes to the Ostman Road area
Navigation Road Trial - closed 27 May: We asked for your views help us evaluate the scheme
Haxby Station Project - closed 15 May: Public consultation about plans to bring a railway station back to Haxby
Public Protection Portakabin application - closed 25 April: An application to vary the permit conditions of a permit already permitted at Portakabin, New Lane, Huntington was received. The proposal is to install a new production line and to vary the permit conditions accordingly to cover the new activity. All comments will be placed on the public register unless they include a statement requesting that this is not done
---
Also see
Business Intelligence Hub
Customer and Corporate Services