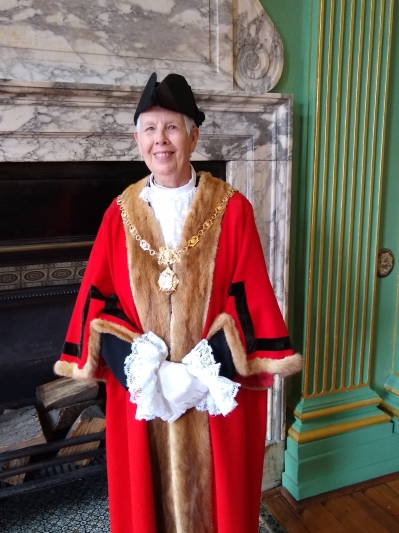 The Sheriff of York for the civic years 2019/21 is Mrs Jo Trythall.
Jo has lived and worked in York for 50 years. Born in Somerset, Jo grew up in the Thames Valley and moved to York from London in 1969 with her husband, when he took up a post at York University's History Department.
Jo studied Law as a mature student at Leeds Polytechnic and went on to qualify as a solicitor, where she practised in York and Leeds.
She then specialised in the representation of children and parents who were involved in care proceedings, and was also Managing Partner of her firm's office, Harrison Bundey, in Leeds.
Jo retired from private practice at the end of 2012 and became a volunteer at Citizens Advice York (CAY) where she continues to provide free legal services. Jo is also Secretary to her local branch of York Labour Party.
Jo's Consort is her husband, Bill Trythall.
The Sheriff's role and duties
Together with the current Lord Mayor of York, Jo may:
attend at ceremonial occasions
welcome international visitors
attend events organised by local people and community groups
The Civic Party will promote and support the Lord Mayor's and Sheriff's Charities throughout the Civic Year as part of their civic duties.
Invite our Civic Party to your public event
Our Civic Party welcomes invitations to attend public events.
Complete our online form to invite the Lord Mayor and Civic Party to your event.
See details of this year's Civic Party.
Also see