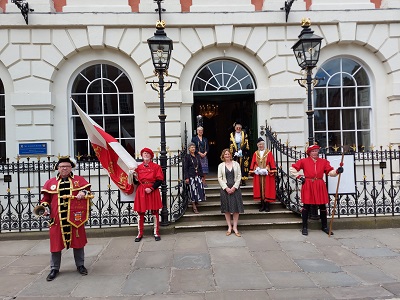 Following the unprecedented Coronavirus pandemic Councillor Janet Looker will continue as caretaker Lord Mayor and the first resident of York for another year. This is the first time in over 80 years The Lord Mayor of York will stay in position for a second term.
The Civic Party for 2019/21 is:
The Rt Hon the Lord Mayor of York, Councillor Janet Looker
Lord Mayor's Consort, Mrs Patricia Castle
Sheriff of York, Mrs Jo Trythall
The Lord Mayor of York and the Sheriff of York are teaming up with the Two Ridings Community Foundation to support fundraising during the 2020/21 Civic year.
The partnership aims to support York in its recovery from coronavirus.
Working with the Two Ridings Community Foundation replaces the Lord Mayor's usual annual fundraising committee. The joint work will, this year concentrate on benefitting organisations and individuals in York by making grants of up to £5,000 within two categories; children and young people, and community arts.
Two Ridings Community Foundation is a grant-making charity that supports North and East Yorkshire, York and Hull. Two Ridings has distributed over £8 million to over 3,000 projects across the area, and has raised an endowment of over £4 million for the long-term benefit of local communities.
As well as providing essential funding for small, community projects, Two Ridings Community Foundation is a vehicle for charitable giving. Two Ridings works with individuals, families and companies who want to support their local communities to design bespoke grant making that targets specific issues or geographical areas.
Invite the Lord Mayor to your event
If you would like to invite the Lord Mayor and members of the civic party to an event you are planning, please contact the civic office.
Invite The Lord Mayor to your event
You can complete the online form to invite The Lord Mayor to your event, or you can download a Civic engagement questionnaire in order to submit your invitation.
Donate to the Lord Mayor's and Sheriff's initiative
You can make a donation to the Lord Mayor of York's initiative at any time, by donating online or by cheque payable to "Two Ridings Community Foundation", endorsed on the back "For the benefit of the Lord Mayor of York's Fund", to:
Two Ridings Community Foundation,
Pavilion 2000,
Amy Johnson Way,
York,
YO30 4XT
Also see