Biography: The Sheriff of York
Sue Hunter is the Sheriff of York for the civic year 2023 to 2024.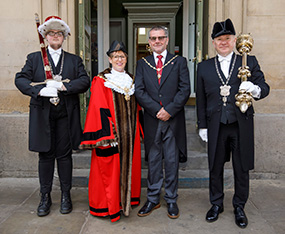 The Sheriff of York and the Sheriff's Consort, 2023 to 2024
Photo credit: Furmoto Photography
Sue Hunter, Sheriff of York, was born in Acomb and still lives there to this day.
Born to a Scottish father and a very Yorkshire mother, Acomb has always been close to Sue's heart. Her grandfather, uncle, and aunt,all ran businesses on Front Street and, for the last twenty years, Sue has too in local florist, Floral Elegance.
Before fulfilling her dream of running a floristry, Sue worked for Thomson Holidays, Cadburys, and Avon. In 2015, she became a City of York Councillor for Westfield Ward and served two terms before becoming Sheriff.
Sue likes to potter around her garden, read trashy thrillers, and volunteer for local charities including St. Leonards Hospice and Snappy.
Despite not often straying far from Acomb, Sue, along with her long-suffering partner Nigel, is a fan of visiting her son James, in London, to take in a show and have a relaxing walk around Hampstead Heath and visiting her younger son Andrew in Norfolk where her two grandchildren keeping Nanna on her toes!
Sue is honoured to serve York as Sheriff and knows that her Yorkshire lass mam, her dear dad, and her wider Acomb and Ampleforth and Braemar family will feel as proud as she does.
Also see