Latest news on Castle Gateway
A planning application for a proposed new public space in the 'Castle and Eye of York' area including the space currently used as Castle Car Park has been submitted.
We held two events to share more about the application, an online Facebook Live session on Wednesday 16 February and a walkabout on Saturday 19 February.
A decision on whether to proceed with the procurement of a contractor for the new St George's Field multi-storey car park will be considered as part of a future delivery report on Castle Gateway in 2022.
We're working on ambitious plans to regenerate the Castle Gateway area of the city, transforming it into a world class public space.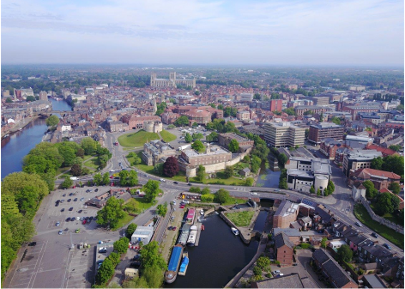 Aerial view of the Castle Gateway area
The Castle Gateway area sits largely within the city walls on the site of the former York Castle where the River Ouse and River Foss meet. The area covers the length of Piccadilly, the Coppergate Shopping Centre, Clifford's Tower and the Eye of Yorkshire, and runs through to St George's Field and the Foss Basin.
The area has great potential in terms of its location, historic and cultural assets, yet also has areas of significant dereliction and underdevelopment. Regeneration will provide an opportunity to develop retail, leisure and residential facilities, which will complement and build on the vitality of the city centre. This will improve the historic setting of Clifford's Tower and the quality of public space and accessibility throughout the area.
Find out more about the various initiatives underway to improve the area:
---
Also see