The Lord Mayor of York is the 'first citizen' of the city; appointment to this position is made each year, in May. At the same time each year, the Sheriff of York is appointed.
The Lord Mayor chairs meetings of 'full council' and, together with the Sheriff:
represents the city on ceremonial occasions
welcomes international visitors
attends events organised by local people and community groups
York's Lord Mayor is second only to the Lord Mayor of London in precedence and its Sheriff holds the oldest office of Sheriff in England and Wales.
The Civic Party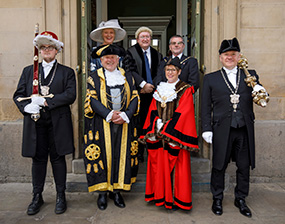 The Civic Party 2023 to 2024
Photo credit: Furmoto Photography
Our Civic Party for 2023 to 2024 is:
The Rt Hon Lord Mayor of York, Reverend Councillor Chris Cullwick
Lady Mayoress, Mrs Joy Cullwick
Sheriff of York, Ms Sue Hunter
Sheriff's Consort, Mr Nigel Goodwin
Pictured: Sword Bearer, Lord Mayor of York, Sheriff of York, Mace Bearer (left to right, front), and The Lady Mayoress, CYC Chief Operating Officer Ian Floyd, Sheriff's Consort (left to right rear).
Read the biographies of our Civic Party members.
The Mansion House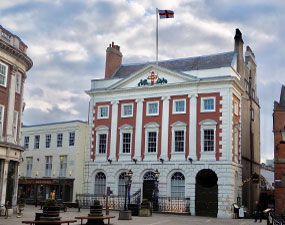 The Lord Mayor hosts formal and informal functions at the Mansion House.
Situated in St Helen's Square, in the heart of York city centre, the Mansion House is the official residence of the Lord Mayor of York during their year of office.
The Mansion House is also available for tours and private hire - see further information on The Mansion House website.
The Guildhall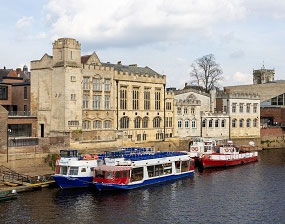 The Guildhall was built in the 15th century and is situated on the River Ouse (behind the Mansion House). We hold full council meetings, chaired by the Lord Mayor, in the council chambers within the Guildhall.
Also see