You must book an appointment before you visit us. Our helpful staff will be available to assist you when you arrive at West Offices. In addition, we've provided information about potential sensory issues you might encounter; we want to help you understand what to expect when you visit.
Find out about:
Entering the building
When you arrive at West Offices the doors to the Customer Centre open automatically.
Inside the Customer Centre is a large open area with many desks covering different departments of the council and some other 'partner services'. The Customer Centre can be very busy and noisy throughout the day.
If you need to speak to someone, you'll get a numbered ticket. Our large screens display your position in the queue; your number will flash up and be announced when it's your turn.
Private meeting rooms are available, if necessary.
Visit the AccessAble website for venue accessibility information.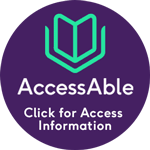 ---
Security at West Offices
Security guards are stationed inside the Customer Centre. They help to keep everybody safe.
When you arrive at West Offices you may be asked to empty your pockets or show the contents of your bag. You're not allowed to bring some items into the building, such as sharp objects. These items will be taken off you and, if appropriate, will be returned to you as you leave.
If you're attending a meeting or conference:
you'll be asked to 'sign in'
you may need to sit in the business waiting area until a member of staff comes to greet you
you'll be escorted around the building at all times
you'll be given a Visitors Pass to wear all times while you are on the premises.
if you don't have your pass clearly displayed, you may be approached by staff or security guards, and asked questions about why you're in the building
If you need to leave the building for a short period, for example to have a break, you must ask a member of staff who will allow you back into the building.
You will only to be allowed into some areas if you are with a member of staff.
When you leave West Offices at the end of your visit you must 'sign out' and return your Visitors Pass.
---
Sensory factors at West Offices
There could be other things that you need to be aware of, in relation to sensory issues and your visit to West Offices.
Sight:
some people with sensitivity to heights may feel dizzy when looking over the balconies on each of the floors
you might see notices, posters and other information boards on the walls
televisions and screens are located around the building
Sounds:
the fire alarm is tested in West Offices on a Thursday morning at 10.00am; if you're hyper-sensitive to sound you might plan your visit to avoid the fire alarm, or bring ear defenders if you usually wear them
there may be sounds related to building or maintenance work, such as drilling, banging or lawn mowers cutting grass outside
the lifts have an audio alert/voice, informing people of the floor they are on
events and activities hosted in West Offices can be very busy and noisy
there might be video or audio being played, which can be loud
catering trolleys make a noise when pushed along as their wheels move on the slate floor
blinds sometimes make a noise went opened or closed
when there's heavy rain outside the pipes inside the building make a noise
hand dryers in the toilets are very loud
Smells:
you may be able to smell paint, if the building is being decorated
(low toxin) cleaning products are used in West Offices
it's possible to smell in some areas
there may be a smell of perfume or aftershave from staff or other visitors
Touch:
Shaking hands with people is a common practice, and which may be expected; let us know if you don't want to shake hands
Light:
there can be a big contrast in light as you go into different rooms; some might be very bright, others very dark
in some rooms, the light might change while you're inside
---
Helpful facilities at West Offices
we have different types of toilets available
we have loop systems for people who are deaf and use a hearing aid
we can provide a quiet space if you need somewhere to retreat to
a member of staff will assist you to the quiet room, where you can sit or rest as needed
Contact us if you'd like further information about:
events taking place on the day of your visit
arranging a pre-visit at a quiet time
how we can support a variety of sensory issues
Also see