There is an emergency response plan in place for the River Ouse, within the City of York boundary, which identifies emergency access points. These are locations on the river bank where the emergency services can access the river, in order to assist in an emergency situation.
Find out about:
River Ouse emergency access points
There are 20 emergency access points along the River Ouse, between Naburn Lock and Upper Poppleton.
Emergency access points are divided into 2 types, so the emergency services can identify the required response - they know this, based on the numbered sign. Forward Control Points (FCPs), shown as green squares on the map, and Emergency Meeting Points (EMPs), shown as red circles on the map.
Identifying emergency access points on the River Ouse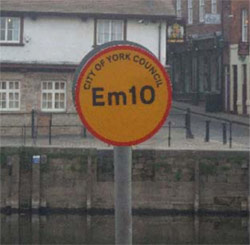 Emergency access points are identified along both banks of the River Ouse using& circular yellow signs, with a red border and a code (made up of letters and numbers) in the centre.
Forward Control Points (FCPs) are located at:
Naburn Lock
Boatyard, Acaster Malbis
Bishopthorpe Landing
Millenium Way Footpath
Government House Road
Clifton Short Reach
A1237 Bridge
Riverside Farm
War Memorial, Poppleton
Emergency Meeting Points (EMPs) are located at:
Ship Inn, Acaster
Main Street, Naburn
Naburn Marina, Fuel Pontoon
Fulford Hall
York Motor Yacht Club Moorings
Hospital Fields Road
Terry Avenue
Blue Bridge Lane
Queen's Staith
Lendal Landing
---
Using emergency access locations on the River Ouse
If you need assistance from the emergency services whilst on the River Ouse, they'll need details of your location; use emergency access point signs to help identify where you are.
In an emergency on the River Ouse dial 999 or 112, to contact the emergency services, and:
tell the operator you're on board a vessel on the river Ouse, in York, and need to report an 'Ouse Plan Incident'
give the number on the last emergency access sign you passed
state your direction, whether you're travelling up or downstream, and whether you're midstream, or near to the east or west river bank
provide your approximate distance from the last emergency access point sign you passed
To direct their officers accordingly, each emergency service:
has a copy of the emergency response plan for the River Ouse
knows the location of emergency access points
---
Moorings on the River Ouse
The majority of the emergency access points on the River Ouse are not mooring points; they're indented for emergency use only. To respect riverbank landowners, and for the safety of all river users, do not moor at emergency access points. See: moorings on the River Ouse.
Also see