We've been working closely with residents of The Groves for the last 2 years on The Groves Regeneration Project, looking at ways to make this an even better place to live.
Local people have said they want:
better air quality
less and slower traffic
the chance to build on the existing sense of community
Streets which are less congested or car dominated lead to much improved road safety, better air quality and more walking and cycling which can improve health and wellbeing. They can often also lead to more social interaction, community activities and less isolation, as people feel safer and more confident being out and about in the area.
These aims support our priorities of promoting sustainable travel choices and reducing traffic in residential areas. They will also help with the need to maintain social distance during the current COVID-19 pandemic.
We considered and agreed an outline plan in October 2019 to reduce through traffic in The Groves. In February, we consulted residents and local businesses about trialling a scheme to introduce a number of road closure points and changes to traffic routes. These will prevent unnecessary through traffic while maintaining essential access to and from homes and businesses. In June 2020, we approved detailed plans for the scheme.
See the agenda, decisions and minutes for the Decision Session, Executive Member for Transport, Monday 22 June 2020 (item 76).
This includes details of the The Groves Area Experimental Traffic Regulation Order, and supporting documents.
Road closures and traffic changes
The closures and traffic changes will start on Wednesday 2 September 2020. Under the Experimental Traffic Regulation Order they are planned to be in place for a minimum of 6 months, and can continue as experimental for up to 18 months.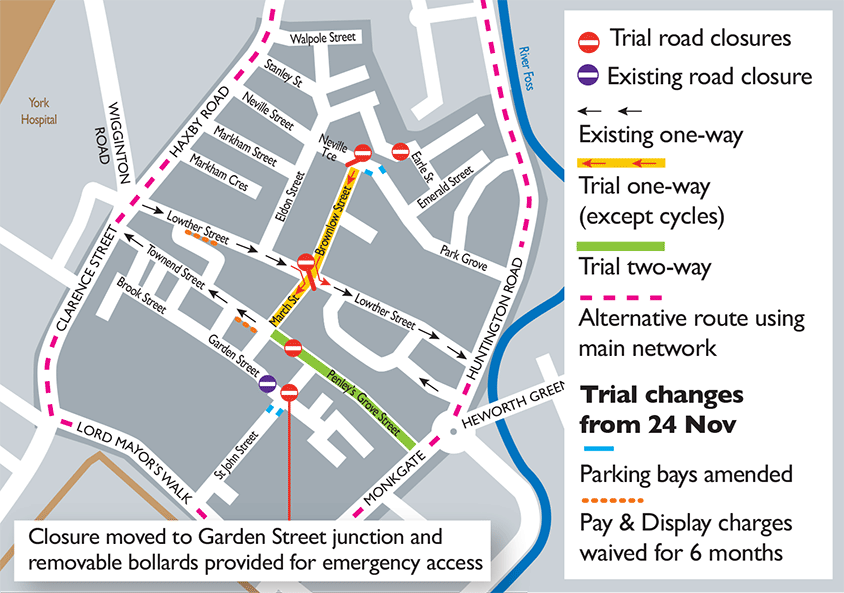 New closure points will be made at 5 locations:
the junction of Lowther Street and Brownlow Street
St John's Crescent
Penley's Grove Street
Neville Terrace
Earle Street
These closure points will prevent vehicles passing through, but will be open to walkers and cyclists.
In addition to the new closure points, the following changes will be made:
the existing closure point at Neville Terrace will be removed to allow more direct access to Haxby Road from that side of The Groves
Brownlow Street and March Street will become one-way streets, except for cyclists
Penley's Grove Street will be two-way, to allow traffic to exit onto Monkgate from this part of The Groves
We've been listening to your feedback on the low traffic neighbourhood trial since it opened. From 24 November we have made the following additional changes to the trial.
We will:
Change the position of the road closure on St. John's Crescent. We've relocated it at the junction with Garden Street. Removable bollards will be installed for part of the closure to provide a secondary emergency access route to streets off Garden Street/St John Street. Access to St John's Crescent will be via Penlys Grove Street.
Remove 2.4m of on-street parking on both sides of St John Street near the junction with Garden Street to create more turning space at the junction;
Change the position of the road closure at the junction between Neville Terrace, Park Grove and Brownlow Street, to stop some drivers bypassing the road closures via the alleyways between Neville Terrace, Eldon Terrace and Amber Street;
Remove the parking bay adjacent to 25 Neville Terrace to allow larger vehicles, including emergency vehicles, to move more easily. Extend parking bay on Park Grove to maintain parking capacity.
A Temporary Traffic Regulation Order (TTRO) to waive Pay & Display charges for six months at the parking areas near the shops on Lowther Street and next to the shop on Townend Street (between Abbot Street and Del Pyke).
Details of the decisions are available here.
Cycle routes in all directions throughout The Groves will continue and will benefit from less traffic.
A small number of parking spaces will be removed or relocated to make room for turning points at the closures, and the existing resident parking zones will merge so that local people can park more flexibly.
For alternative ways to travel across or within the city, visit iTravel York.
Planters will be placed at most closure points and residents are invited to help plant them up. For more information, please contact The Groves Association by email: grovesassociation@gmail.com.
Residents are also working with The Groves Association and The Groves Regeneration Project to develop new community initiatives which build on the quieter, low-traffic streets, such as a Groves History Trail.
Frequently asked questions
To help answer some of the questions residents and road users have been asking us, please visit frequently asked questions.
Review of The Groves Trial
During the trial, officers may adjust the scheme in response to residents' experience and feedback. The scheme can be made permanent at any point as long as it has been in place, unchanged, for at least 6 months.
A letter will be issued to all local residents, inviting their feedback. Any feedback received, which will be welcomed from everyone experiencing the trial, will be given to the Executive Member for Transport to decide whether the measures should be made permanent, should be adjusted or removed.
Residents will be able to observe the measures and reflect on how they are working and pass on their comments by email to: thegrovestrial@york.gov.uk.
Also see