We've been working closely with residents of The Groves for the last 4 years through The Groves Regeneration Project, looking at ways to make this an even better place to live.
Local people have said they want:
better air quality
less and slower traffic
the chance to build on the existing sense of community
Streets which are less congested and less car-dominated can lead to:
improved road safety
better air quality
more walking and cycling
improved health and wellbeing
Reduced congestion may also lead to more social interaction, more community activities and less isolation, as people feel safer and more confident being out and about in the area.
These aims support our priorities of promoting sustainable travel choices and reducing traffic in residential areas.
See further information about The Groves low traffic neighbourhood trial:
---
The Groves Decision
In October 2019 we considered and agreed an outline plan to reduce through traffic in The Groves.
In February 2020 we consulted residents and local businesses about trialling a scheme to introduce a number of road closure points and changes to traffic routes.
In June 2020 we approved detailed plans for a scheme to prevent through traffic, while maintaining essential access to homes and businesses.
See the agenda, decisions and minutes for the Decision Session, Executive Member for Transport, Monday 22 June 2020 (item 76).
In January 2022 we approved the making of a permanent Traffic Order to follow on from the Experimental Order.
See the agenda, decisions and minutes for the Executive, Thursday 13 January 2022, 5.30pm (item 82).
---
Road closures and traffic changes
The majority of the closures and traffic changes that were trialled from September 2020 were made permanent in an order created in February 2022. This made permanent the altered routes and closures that were in place.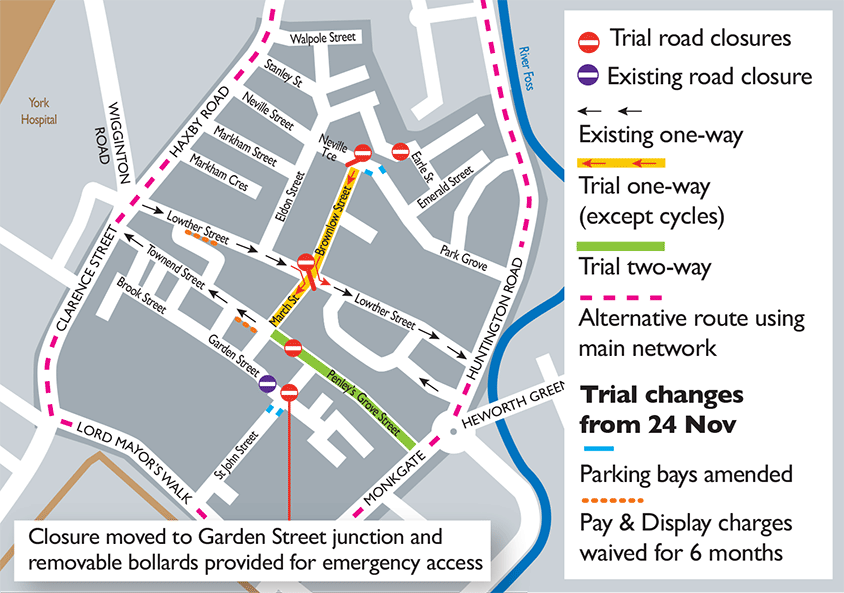 The closure points are in place at:
the junction of Lowther Street and Brownlow Street
St John's Crescent
Penley's Grove Street
Neville Terrace
Earle Street
Specified directions of travel are given, except for cycles, at junctions as follows:
Brownlow Street left hand turn into Lowther Street
Dudley Street left hand turn into Brownlow Street
Lowther Street right hand turn into March Street
Park Grove left hand turn into Brownlow Street
Penley's Grove Street left hand turn into Monkgate
The scheme confirmed:
removing the existing closure point at Neville Terrace to allow more direct access to Haxby Road from that side of The Groves
Brownlow Street and March Street as one-way streets, except for cyclists
Penley's Grove Street as two-way, to allow traffic to exit onto Monkgate from this part of The Groves
'no waiting at any time' restrictions on parts of Brownlow Street, March Street, Neville Terrace, Penley's Grove Street and St John's Street
the location of one Resident Parking Bay on Park Grove
it merged a number of residents' parking zones in The Groves into one zone
These closure points prevent vehicles passing through the area, but are open to walkers and cyclists. Cycle routes in all directions throughout The Groves continue to be available and benefit from less traffic.
Residents are also working with The Groves Association and The Groves Regeneration Project to develop new community initiatives which build on the quieter, low-traffic streets, such as a Groves History Trail.
---
The Groves Trial Road Safety Audit
A Stage 3 Road Safety Audit was undertaken for the low traffic neighbourhood trial in April and May 2021.
View a copy of The Groves Low Traffic Neighbourhood Trial Stage 3 Road Safety Audit.
---
Executive Item
Details of the Executive meeting, Thursday 13 January 2022, 5.30pm can be viewed online (item 82).
Having noted the comments made under Public Participation on this item, it was resolved:
that the Chief Operating Officer (COO) approve making the ETRO permanent, with the following changes to the scheme as set out in the report:

changing the closure points to use bollards and signage improvements in and around The Groves
making permanent the changes that were made to a small number of parking spaces, which were removed or relocated to make room for turning points at the closures, and merging the existing resident parking zones permanently
Reason: to provide quality alternative sustainable modes of transport in order to encourage behavioural change and maximise the use of walking, cycling and public transport and continue improving road safety; minimise the emission of harmful pollutants and traffic danger within the Groves; enhance public streets and spaces to improve the quality of life; minimise the impact of motorised traffic and encourage economic, social and cultural activity.
that the COO be recommended to ask officers to continue to monitor and review the impacts of the scheme and (as part of LTP4), consider further mitigations to be identified where required
Reason: in line with Transport objectives, both existing LTP3 objectives and emerging LTP4 objectives and as is normal practice for newly established Low Traffic Neighbourhood schemes.
that the COO be recommended to delegate authority to the Director of Environment, Planning and Transport, in consultation with the Executive Member for Transport, to sign off the detailed design for the permanent closure points (bollard type and exact locations), and approve any further small changes to parking, signing and lining required to make the arrangements permanent
Reason: to enable the closure points to be designed for the permanent scheme, with adequate signage for highway users within and around The Groves.
that The Groves Community Plan be noted as the outcome of the community consultation and that the COO be recommended to ask officers to explore options and opportunities for external funding to bring forward objectives identified in the Plan
Reason: to improve The Groves area and deliver the benefits identified by The Groves Community Plan.
These decisions have either now been implemented or are being taken forward by officers.
Also see