The Bootham Park site is extremely important to York. Its Grade 1 and 2 listed buildings and grounds have been a focal point in York life and healthcare since 1777.
Council and health partners continue to work together to make sure that any future development respects the site's significance and meets York's needs.
A consultation took place in 2018 and a Site Development Report was produced in response, published in July 2019. This report is influenced by a Health Impact Assessment.
In January NHS Property Services announced that they have appointed retirement living providers Enterprise Retirement Living (ERL) as the preferred purchaser.
ERL's proposal to provide a 125 unit independent living retirement community would secure public access to parts of the hospital building, including the boardroom, gym and bowling alley.
With air ambulance landing site and NHS use of the Chapel set to continue, ERL and NHS Property Services (NHS PS) are set to 'positively engage' with the council over other key requests identified during recent consultations to influence the future of the site including public use of the Parkland.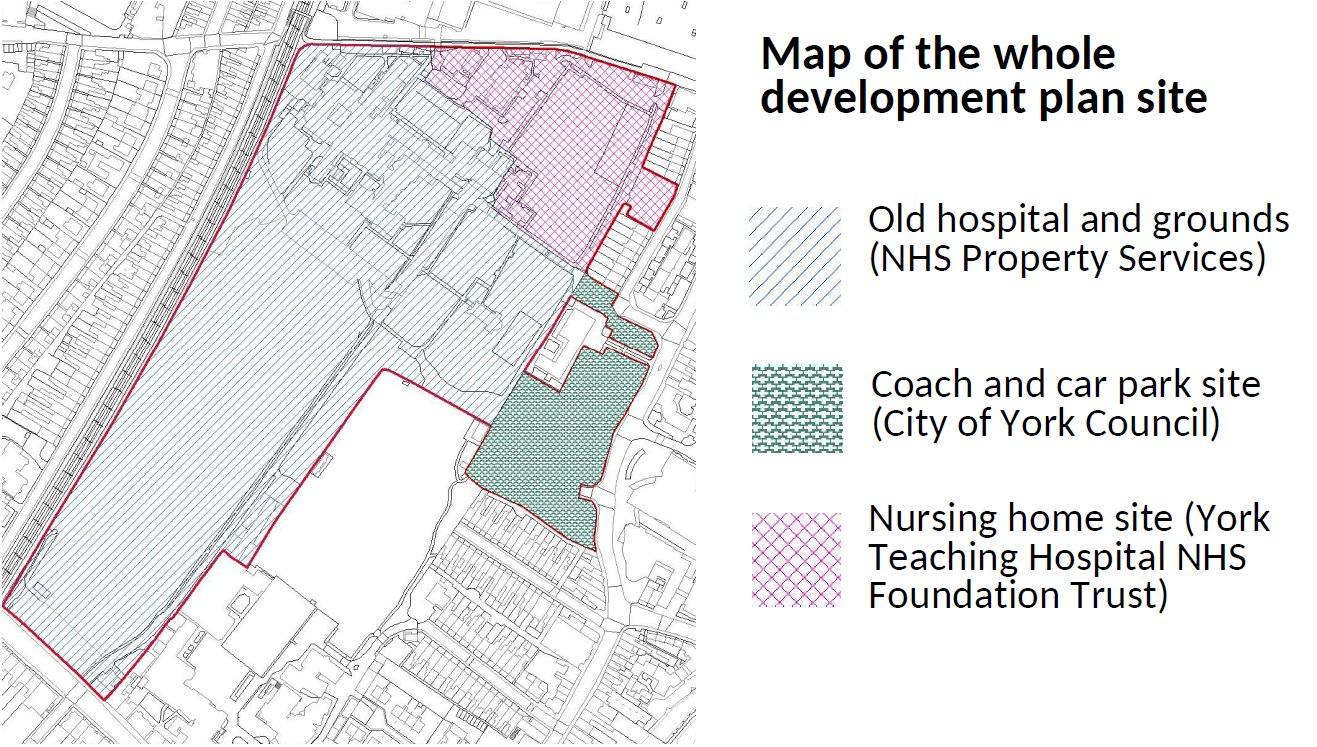 A map of the Bootham site showing area ownership
All 3 sites together creates a larger area which would allow for a more comprehensive approach to development, offering potentially greater benefits to the city by providing:
better health facilities
new housing
more parking
improved access across the site and to the Hospital
new accessible public open space
---
Bootham Park
In October 2018, the public consultation resulted in an open community brief which identified important themes and preferred uses of the site.
Our consultants took this information, together with input from many other stakeholders and produced the Site Development Report in April 2019.
These activities were funded as part of the government's One Public Estate programme, which supports public bodies to use public land and property to boost economic growth, supply housing and regeneration, and integrated public services.
---
Site development plan for Bootham Park
In 2018, we asked residents and businesses for their thoughts about the future development of the Bootham Park site. We received nearly 1,000 comments in response to a 3-week consultation. See the original exhibition boards.
Local engagement experts My Future York compiled your responses into an open community brief. Our designers, IBI Architects, used this brief along with extensive conversations with partners, heritage groups and other experts to develop the emerging ideas.
This represents one proposal for a viable use for the site which preserves the site's heritage and delivers benefits for the people of York. There are other proposals which may achieve the same aim.
The following detail the various options, how they respond to the open community brief and the wider issues which shape development on the site:
Heritage and development opportunities
The site features a mixture of grade 1 and 2 listed buildings, including the original 1777 John Carr hospital. Its grounds and setting are also protected by this listing. Whatever the future use and ownership, these elements must be protected and maintained.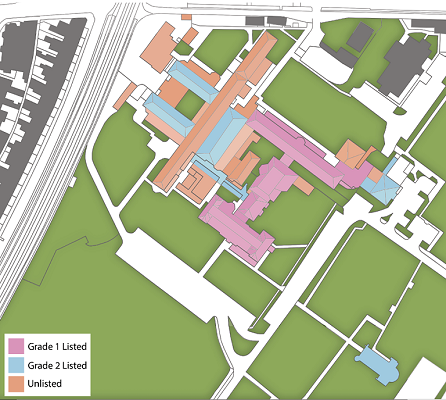 A map of Bootham Park showing the listed and unlisted buildings
There's an opportunity to develop some of the newer and less significant buildings which surround it. We're also keen to remove structures and surface level car parking which are seen as detrimental to the heritage of the area.
The emerging ideas also explore how development could take place to pay for the required investments, allowing for ongoing preservation of the site's heritage and developing community uses on other parts of the site.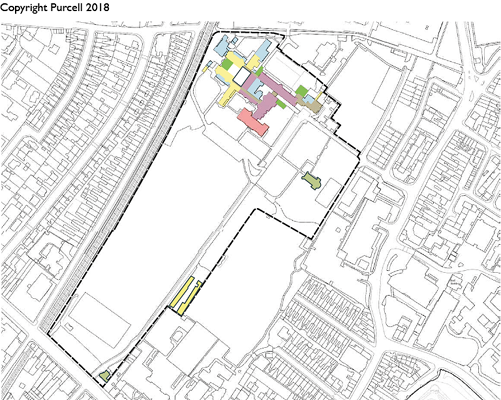 A diagram showing the potential change to the buildings of Bootham Park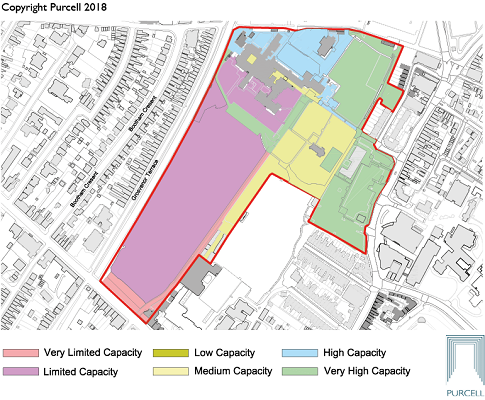 A diagram showing the potential change for the landscape of Bootham Park
Any new buildings would need to be designed from appropriate materials, and to an appropriate size and height in order to be sensitive to the surrounding 'heritage' setting.
---
Links to healthcare
The consultation evidenced the strong desire for Bootham Park to retain links to healthcare in York. It also focused on opportunities the site offered for the district hospital to expand.
Mental health services need to be provided in more suitable, modern buildings. which will be met by the construction of a new 72-bed residential mental health facility on Haxby Road due to open in 2020.
The site development plan suggests the main hospital building could provide 'extra' or 'step-down' care needed by people being discharged from hospital before returning to independent living.
It could also include 'supported' apartments to meet a growing need for older people to move from less suitable family homes. New buildings would provide apartments for key health workers, a physiotherapy wing and a training and research centre for the Trust.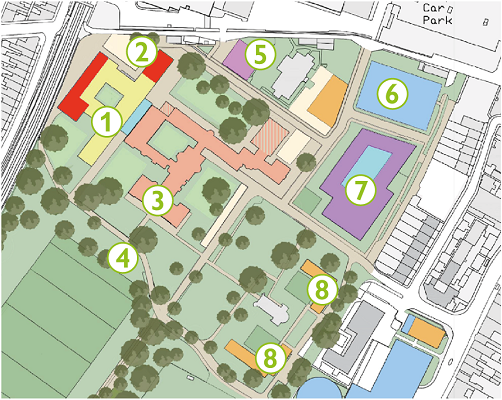 A map of the healthcare opportunities at Bootham Park.
unlisted and some grade 2 listed buildings could be removed and replaced by a Medical Training Centre of Excellence
key worker accommodation
main former hospital building converted to 'extra care' apartments
landscape area redesigned to provide a semi-private garden and courtyard space
childcare nursery directly accessible from the York Hospital site
multi-story car park with approximately 150 spaces to rationalise parking around heritage buildings and provide extra spaces for proposed uses
care home
residential development designed for the senior market
---
Access to open spaces
Open spaces on the site could provide more benefits for health and well-being. This green space has been used as sports fields in the past.
While many people have used the site's green spaces up until the 1980's, York residents have never enjoyed formal open access to these facilities. Our site development plan hopes to make this happen for the first time.
This could include:
a play or fitness trail (like at the University and in Homestead Park)
sports provision for school and community use
The peaceful nature of the site was highlighted during the community consultation, as well as the need to retain links to the site's history as a place for mental health care. The proposals would see a calm, peaceful area designed for contemplation, and a sensory, dementia-friendly area which would also be used as a memorial area for former patients.
---
Transport Links
Connections to the site and hospital
The proposals could create space for better access both to and through the site, and importantly to the hospital by all modes of transport. In particular, it would drastically reduce journey times for patients in non-emergency ambulances.
Replacing the surface level car park with a modest and well-designed multi-storey coach and car park would improve what is an important gateway to the city as well as widen the access point onto the site.
Walking and cycling routes
Together with the new pedestrian and cycle access over Scarborough Bridge, future development on the Bootham park site offers an exciting opportunity for sustainable and car-free routes connecting the station to the hospital and beyond to the Nestlé site. It would also better connect the community to town and the rest of the city along the pathways around the Ouse.
Paths could run north to south and east to west through the site, separated from road traffic. This would open up access to Gillygate, benefiting both residents and local businesses. It could also provide an improved connection to the footbridge crossing the railway (Scarborough Bridge).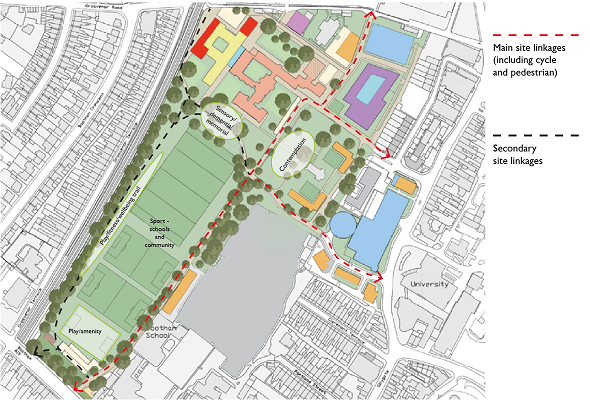 A map of Bootham Park showing the through routes.
---
Housing for all
The site has potential to provide homes to meet some of York's identified housing need. The emerging plan identifies 199 homes for the site, of these 57 homes could be affordable, including those for key workers at the hospital.
There's also potential to provide:
family housing
homes for older people
homes for those living with dementia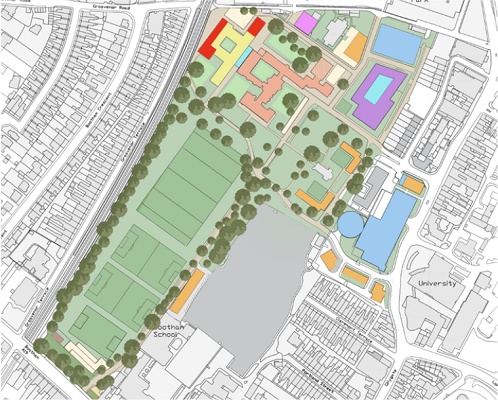 A map of the Bootham Park site showing the housing opportunities.
mustard - housing (including senior living and market)
red - key worker accommodation
peach - extra/'step down' care
blue - multi-story car parking
purple - care home
pink - nursery
yellow - medical training centre
---
Also see
Bootham Park site
Join the conversation about Bootham Park site.