York Youth Council are a group of passionate young people who want to make York better for everyone, especially children and young people.
York Youth Council's vision is to empower young people to have a voice and influence decision makers.
Watch the York Youth Council animation to find out more!
---
York Youth Council meetings
Get involved with York Youth Council if you're aged 11 to 18 years, and live or go to school in York.
York Youth Council hold fortnightly meetings, on Wednesdays between 5.15pm and 7.00pm, where you can share any issues or views you may have. Contact York Youth Council for more information, or to attend a taster session.
Members of York Youth Council take part in:
consultations: working with local and regional organisations, reviewing services and giving feedback
outreach and engagement: engaging with young people, schools, and relevant groups across the city, and using social media
campaigns: forming campaigns on key topics for young people based on initiatives such as Make Your Mark
meetings: organising and attending meetings, representing youth voice across the city with other organisations, and inviting guest speakers
opportunities: giving opinions on a range of issues and influencing decision makers; involvement with UK Youth Parliament
Get the latest information on York Youth Council projects.
---
York Youth Council poster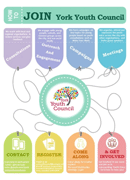 Download and print a 'How to Join York Youth Council' poster.
This file may not be suitable for users of assistive technology; request an accessible format.
---
Also see