We're joining workplaces and communities in supporting this year's Clean Air Day campaign on 16 June 2022.
The theme of Clean Air Day this year is focussed on raising awareness that air pollution impacts our health whatever age we are and can affect every organ in the body.
We'll be supporting our staff, schools and our partners to take action for clean air to improve health.
We are asking everyone to raise awareness about the harms of air pollution and how it affects health. We would encourage everyone to pledge to walk or cycle those short distance trips wherever possible and leave the car at home.
Resources to support the day are available to everyone and can be found online on the Clean Air Day campaign resources page.
Find out more about:
---
Air pollution and health
Every year, air pollution causes up to 36,000 deaths in the UK and it is the biggest environmental threat to our health, no matter who you are or where you live.
Some people are more susceptible to air pollution related health issues such as the young, older people and pregnant women.
Air pollution affects your body in lots of ways. It can increase the risk of developing some health problems and can make existing health problems worse.
When we breathe polluted air, it can inflame the lining of our lungs and move into our bloodstream ending up in the heart and brain, causing lung disease, heart disease, dementia and strokes.
Any reductions in air pollution that we make will lead to health improvements for us and in our local community.
---
How you can reduce pollution
There are simple steps we can all take to help us cut down on the pollution we cause such as:
Walk short distances instead of driving
In addition to improving local air quality, walking is an easy and accessible way to improve physical and mental health. Walking down a side street rather than a busy road can cut someone's exposure to pollution by 20% or more. Our iTravel page keeping York on the move contains lots of ideas for walking more, lists groups in and around York that organise led walks and provides information for schools about how to increase walking on the school run.
Cycle or scoot more
We have produced a series of new cycle route videos, many of which are off-road and low-pollution routes.
Use our network of zero emission buses to get around York
The majority of our Park and Ride services now operate using electric buses and we have recently secured funding to upgrade other bus services to electric. For more information, see our iTravel bus route and timetables page.
Support our Kick the Habit campaign
Support Kick the Habit if you have to drive and make sure you switch your engine off when you're stationary and parked. Consider using zero emission electric vehicles where you can. York has a large network of publicly accessible charging points that can be used on a pay as you go basis.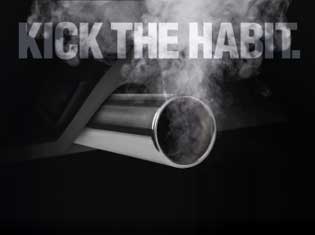 Use alternative heating options
If you have alternative heating options during colder months, avoid burning solid fuels. If you rely on wood for your heating, use 'ready to burn' materials (for example, dry wood or approved manufactured solid fuels). Avoid burning garden waste whenever possible, as it produces smoke, especially if that waste is green or damp.
The Personal Air Pollution Calculator is a free to use online tool to work out how much pollution you produce, how you can reduce it and protect your health.
To find out more online about air quality and how to improve it.
---
Clean air policies
The council has embedded sustainable travel measures in its travel and planning policies. York introduced the UK's first voluntary bus-based Clean Air Zone (CAZ), which demonstrates the importance of clean air to the council and the sense of urgency required to make a difference. We are also committed to improving walking and cycling infrastructure for everyone.
There has been a general downward trend in pollution monitored across York over the last 10 years. The reductions are related to improvements in traffic emissions generally and measures introduced through our Air Quality Action Plan, Local Transport Plan and sustainable travel programmes, for example iTravel.
Find out more about:
---
Also see