Network Rail has undertaken work to replace the footbridge attached to Scarborough (rail) Bridge on behalf of the council.
Scarborough Bridge improvements
The new bridge has greatly improved this crossing, which connects directly to York Railway Station.
It also provides:
a traffic-free route between the railway station, city centre and residential areas
more space for pedestrians, cyclists, pushchairs, wheelchairs and those with mobility issues
ramps and stepped access to cater for more users
improved connectivity of the National Cycle Network (routes 65 and 658)
an available crossing when flood defences are closed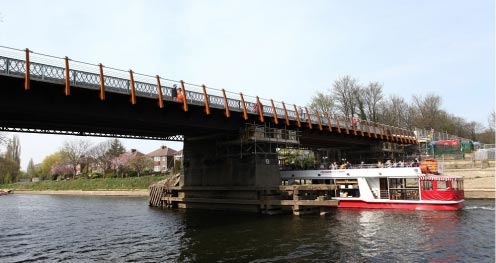 Photo of Scarborough Bridge.
The new traffic-free bridge has become a new popular route into the city centre for many of York's visitors, regular commuters and local residents.
Funding the Scarborough Bridge upgrade
The final cost of the bridge is estimated to be around £4.4million, funded by:
Also see
Scarborough Bridge project
Contact Network Rail on telephone: 03457 114141