Holocaust Memorial Day, which usually takes place on 27 January each year, is now an established act of commemoration when people from all over the world come together to remember the destruction and devastation caused by the Holocaust and more recent genocides and persecution.
On Holocaust Memorial Day we come together to remember, to learn about the Holocaust, Nazi Persecution and the genocides that followed in Cambodia, Rwanda, Bosnia and Darfur, in the hope that there may be one day in the future with no genocide. We learn more about the past, we empathise with others today, and we take action for a better future.
The city of York is committed to delivering a programme of events, working with a range of partners both inside and outside of the city inspired by the national theme 'Ordinary People'. This programme seeks to commemorate the past, explore the continued persecutions of the present and encourage positive actions that make a difference in the future.
We are all ordinary people today who can be extraordinary in our actions. We can all make decisions to challenge prejudice, stand up to hatred, to speak out against identity-based persecution, to shop responsibly.
Ordinary people are also the ones who drive Holocaust Memorial Day, who lead on community commemorations, who support and encourage everyone around them to take part in remembrance and education projects.
Kemal Pervanić, survivor, Bosnia:
People may think that they have nothing to do with my story. But what happened to me, could happen to them – to people like yourself. It may sound too hard to believe but this doesn't happen to strangers who live far away. I'm just an ordinary person. These terrible things can happen to people like us.
Credit: www.hmd.org.uk/.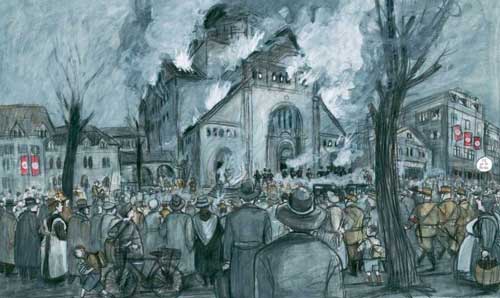 illustration from Irmina by Barbara Yelin, Credit: SelfMadeHero © Barbara Yelin www.hmd.org.uk
---
University of York Holocaust Memorial Day Lecture
This event will be held on Tuesday 24 January, from 6.30pm to 7.30pm. It will be located in room RCH/037, Ron Cooke Hub, Campus East, University of York.
Join us as we commemorate Holocaust Memorial Day 2023 with a special in-person conversation with author Rebecca Clifford, in which Rebecca will reflect on the creation of the remarkably moving book Survivors: Children's Lives after the Holocaust.
How can we make sense of our lives when we do not know where we come from? This was a pressing question for the youngest survivors of the Holocaust, whose pre-war memories were vague or non-existent. In her beautifully written account, Rebecca Clifford follows the lives of one hundred Jewish children out of the ruins of conflict through their adulthood and into old age. You can book your tickets online:
---
York Minster's commemoration for Holocaust Memorial Day
This event will be held on Wednesday 25 January, from 6.30pm at York Minster.
600 candles in the shape of the Star of David will be lit at York Minster, to remember more than 6 million Jewish people and millions of other groups murdered by the Nazi's in the Second World War, and the millions who have died in the genocides that followed in Cambodia, Rwanda, Bosnia and Darfur.
The event will be held in York Minster Chapter House beginning at 6.30pm and includes readings, music, poetry, prayers and periods of silence for quiet reflection. Guests are also invited to Choral Evensong in the Quire of York Minster which begins at 5.30pm.
For any enquires please email: patothecanons@yorkminster.org, or telephone: 01904 557202.
---
City of York Civic Event
This event will take place on Thursday 26 January, from 6.00pm to 8.00pm. It will be held at the York St John Creative Centre, York St John University, Lord Mayor's Walk, York YO31 7EX.
City of York Council's annual Civic Event hosted by the Lord Mayor and Civic party. Holocaust Memorial Day 2023 is embracing the national theme, 'Ordinary People'. Genocide is facilitated by ordinary people. Ordinary people turn a blind eye, believe propaganda, join murderous regimes. And those who are persecuted, oppressed and murdered in genocide aren't persecuted because of crimes they've committed – they are persecuted simply because they are ordinary people who belong to a particular group or country.
The schedule for the event includes:
Welcome and Introduction Vice Chancellor, York St John, Prof. Karen Bryan
The Rt Hon the Lord Mayor of York Councillor David Carr
'The Jewish Wife' theatre performance - York St John University Students
A voice from Ukraine - an eyewitness account of unfolding tragedy
Partner Statements - various York partners with affiliations to HMD
Reading of the Seven Commitments Candle Lighting
You can reserve your tickets by telephone: 01904 876318 or online using the below link.
For non-booking enquiries contact Liz Roberts via email: liz.roberts@york.gov.uk or telephone: 07873 702852.
---
Clifford's Tower Commemoration
This event will take place on Thursday 16 March between 6.30pm to 7.30pm. It will be located at Clifford's Tower, Tower Street, York YO1 9SA.
Commemoration of the 1190 massacre of York's Jewish population at the site of York Castle at Clifford's Tower, attended by the Lord Mayor and Civic Party, with music, spoken accounts and contributions, concluding with prayer and an act of remembrance.
For further information for the region and beyond visit the Holocaust Memorial Day Trust website.
---
Also see
Holocaust Memorial Day Project Coordinator
Liz Roberts