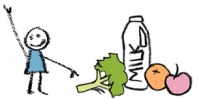 If you are a City of York resident you may be eligible for the Healthy Start Programme
The Healthy Start Programme
Healthy Start Vitamins are available as part of the Healthy Start Programme. Vitamins are essential nutrients that your body needs in small amounts so that it can work properly. Even though you can get lots of vitamins from a healthy balanced diet, you still might not get everything you need at certain times in your life – such as when you're pregnant, a new mum or a small child. If you are eligible to register with the Healthy Start Programme you can get them free.
Pregnant women and children over 1 and under 4 can get one £3.10 voucher per week. Children under 1 can get two £3.10 vouchers (£6.20) per week to spend on milk, fresh, frozen and tinned fruit and vegetables and vouchers every eight weeks for vitamins.
From 1 October 2020 this will also include pulses and tinned fruit and vegetables.
Qualifying for Healthy Start
You can register with the Healthy Start Programme if you are at least 10 weeks pregnant or have a child under 4 years old and you or your family is getting:
income Support, or
income-based Jobseeker's Allowance, or
income-related Employment and Support Allowance, or
Child Tax Credit (with a family income of £16,190 or less per year), or Universal Credit (with a family take home pay of £408 or less per month)
You also qualify if you are under 18 and pregnant, even if you don't get any of these benefits.
Healthy Start Vitamins
Healthy Start Vitamins contain the recommended levels of folic acid and vitamins C and D for pregnant and breastfeeding women and the recommended level of vitamins A, C and D for children aged up to four years.
Iceland Healthy Start Offer
Until 31 March 2021, and subject to availability, Iceland are offering a free £1 bag of Iceland frozen vegetables to customers using Healthy Start vouchers.
Download the promotional poster for more information.
Finding out more
You can find out more about the Healthy Start Programme and Healthy Start Vitamins from your midwife or health visitor or on the Healthy Start website.
Also see
Children's Services Team
Multi Agency Safeguarding Hub (MASH) Team