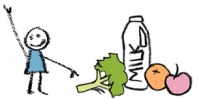 The NHS Healthy Start scheme provides support for families with children under 4, or pregnant mothers, to get access to healthy food and vitamins.
If you qualify you can get vouchers to buy items like:
milk
fruit and vegetables
infant formula milk
You can even get free vitamins for your family.
You can find out more about Healthy Start on the NHS Healthy Start website, where you can also:
Help with Healthy Start in York
If you want to talk about how Healthy Start might be able to help you, ask your health visitor.
Find out more about York's healthy child service, and health visitors in York.
Also see
Children's Services Team
Multi Agency Safeguarding Hub (MASH) Team