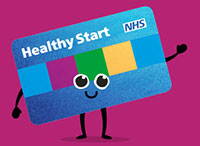 If you're a City of York resident you may be eligible for the Healthy Start Programme.
If you're eligible, you'll be sent a Healthy Start card with money on it that you can use in some UK shops.
You should only use your card to buy certain types of milk, infant formula, fruit and vegetables.
For example, fruit and vegetables should be:
fresh, frozen or tinned
whole or chopped
packaged or loose
fruit in fruit juice, or fruit or vegetables in water
fresh, dried or tinned pulses
Find out more about what you should buy with your Healthy Start Card.
You can also get free Healthy Start vitamins. You can find out more about the vitamins you and your baby need and why at Start4Life.
How much Healthy Start benefit you'll get
You'll get money added onto your Healthy Start card every 4 weeks. You'll receive:
£4.25 each week of your pregnancy (from the 10th week of your pregnancy)
£8.50 each week for children from birth to 1 year old
£4.25 each week for children between 1 and 4 years old
Your money will stop after your child's 4th birthday, or if you no longer receive benefits
Qualifying for Healthy Start
You can check if you qualify for Healthy Start and register if you're at least 10 weeks pregnant or have a child under 4 years old and you or your family is getting:
income Support, or
income-based Jobseeker's Allowance, or
income-related Employment and Support Allowance, or
Child Tax Credit (with a family income of £16,190 or less per year), or Universal Credit (with a family take home pay of £408 or less per month)
You will also be eligible for Healthy Start if:
you're under 18 and pregnant, even if you are not claiming any benefits
you claim income-related Employment and Support Allowance (ESA) and are over 10 weeks pregnant
you or your partner get Working Tax Credit run-on only (Working Tax Credit run-on is the Working Tax Credit you receive in the 4 weeks immediately after you have stopped working for 16 hours or more per week)
You can find out more about the Healthy Start Programme and Healthy Start Vitamins from your midwife or the Healthy Child Service.
Sainsbury's Healthy Start coupons
Sainsbury's will be providing a £2 coupon every week to customers using a Healthy Start card.
The offer is available for 6 months, from Wednesday 12 October 2022 until Tuesday 11 April 2023.
The coupon is valid when purchasing fresh, frozen and tinned fruit and vegetables.
Also see