The CityConnect Free Wi-Fi in York service is available 24 hours a day, 7 days a week.
The network allows those who live, visit and work in the area to access free WiFi from their phone, tablet or any other wireless device and is completely free to use.
Log in to CityConnect free Wi-Fi via social media or by completing a simple online registration form when prompted.
Map of public Wi-Fi zones available across York
Free Wi-Fi is available in the CityConnect zones across the city, as well as in:
libraries
corporate buildings
community buildings (BDUK)
our older people's homes
Park and Ride sites (and on park and ride buses, Coastliner buses and York First buses)
You can also view a list of free Wi-Fi locations.
Digital friendly Wi-Fi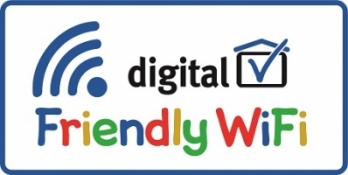 Free Wi-Fi in York is certified by Digital Friendly Wi-Fi, the safe certification standard for public Wi-Fi.
Wherever you see the Digital Friendly Wi-Fi logo, you can be confident that the public Wi-Fi service at this location is filtered to meet the minimum levels of protection.
The following content will be automatically filtered:
web pages known to the Internet Watch Foundation (IWF) that depict indecent images of children
adverts or links to such content
pornography
This will help prevent children and young people from accessing inappropriate material themselves, and also limit accidental exposure to inappropriate material that others might be viewing on their devices in a public place.
Digital York
Free Wi-Fi in York is part of the Digital York project, which also includes plans for improved broadband access to broadband in York both in the city and in rural areas.
As part of a government policy of investment in broadband, York is one of only 22 "Super Connected Cities" in the UK.
The development and expansion of free Wi-Fi in York is one of many initiatives which have taken place over the past few years to further York's digital infrastructure.
See a short video about digital transformation in York when Wi-Fi services were enabled in our city:
Also see