LEaF Translations is a York-based translations company set up in 2017 by Lucy Pembayum to provide quality translations to individuals and organisations. After moving away from working for a language translations agency, Lucy decided to start her own business in order to focus on the quality and not speed of translations as well as encourage ethical business practices. LEaF Translations aims to have a positive impact on their customers, individuals and organisations, as well as the planet.
Part of the company's earnings are donated to Ecologi each month, helping plant and grow more trees in the UK and contributing to the positive environmental solutions against climate change in the time of a global climate emergency. Lucy, together with her husband, also operates a Fair-Trade company selling Indonesian products. One of LEaF's business priorities is climate awareness and they strive to encourage more companies to adopt ethical business practices.
Originally set up as a German to English translations company, LEaF Translations has added more languages in 2020, including French, Spanish and Chinese. A team of 10 permanent highly experienced, qualified native-speaker freelance translators offer their services through LEaF, focusing particularly on quality of work. All translations are also proofread by a second language expert as standard.
LEaF Translations joined Visit York membership in the beginning of 2020 to offer their services to tourism and hospitality businesses in the city. The company aimed to provide website translations that will allow businesses to appear higher in other countries google rankings, as well as translations of other promotional materials like leaflets, signs, etc. However, 2020 and the coronavirus pandemic, have essentially stopped all international travel, so businesses were not prioritising investment in website translations.
Lucy decided to focus on training to develop her professional skills – she became a qualified member of the Institute of Translation and Interpreting, allowing her to translate legal documents like marriage certificates and visas, which adds a new service to the business. For the majority of the year Lucy concentrated on growing the company and project managing the new team of freelance translators, choosing people based on recommendations which ensures quality continues to be the number one priority. Lucy has also begun working with digital marketing agencies offering international SEO (Search Engine Optimisation) and keyword research services.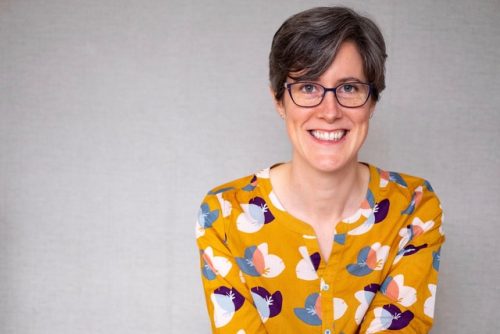 City of York Council's Business Growth Managers been supporting LEaF Translations from early 2020, after Lucy first met Business Growth Manager Louise Saw, via LinkedIn. Louise has helped Lucy raise awareness of her business and introduced her to valuable contacts that can help Lucy's company grow.
Lucy Pembayum, founder of LEaF Translations, said:
Louise has been brilliant. We have regular progress calls to see where the business is at and Louise always offers support and valuable advice on funding, skills training sessions and introduces me to potential clients or people in the sector. Through Louise I was able to get to know Grace Redhead from the Student Internship Bureau at the University of York who looks after the University's Internship Programme and I am interviewing students for an internship at LEaF right now!
"The Connect over Coffee networking group, also run by Louise, is my ultimate, favourite virtual networking event. It is very laid-back but informative and authentic at the same time, with useful talks from the region's diverse businesses and is very helpful in terms of meeting new people and building business connections. I definitely recommend people to join this monthly networking event!".
Looking to the future, Lucy is focused on growing LEaF Translations – first, by continuing to work with digital marketing agencies on keyword research and then, when international travel picks up, by helping tourism and hospitality businesses to attract more customers through website translations.
Working with the University of York's Internship Programme, LEaF Translations aims to support young graduates in getting into the translations business and have a long-lasting career working with languages. Through her own example, Lucy also hopes to encourage businesses to be more ethical and environmentally friendly.
Find out more about LEaF Translations on their website.
Also see