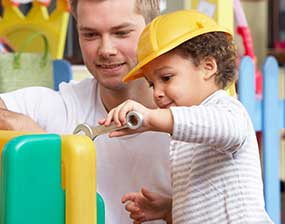 Working with children in early years is more than just a job.
By choosing to work in the sector, you're helping to shape the lives of future generations of children in York.
Early years benefits:
variety of roles available, from childminding to preschool teaching, nursery worker to out of school support
chance to develop and use transferable skills
flexible hours available
great career progression opportunities
chance to make a real difference to the lives of the children you work with
every day is different
If you want more than just a job, work with children, work in early years.
To find out more about the early years jobs available in York visit Find a job or search #WorkInYorkEarlyYears on Facebook or Twitter.
Also see:
Early Years and Childcare Quality Improvement Team