Human rights are fundamentally important in maintaining a fair and civilised society.
The Human Rights Act protects your freedom to control your own life based on core principles of:
dignity
fairness
equality
respect
autonomy
Visit the Equality and Human Rights Commission website for practical guidance on your human rights.
York: Human Rights City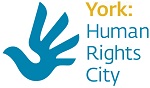 The Lord Mayor of York committed to adopting 'a human rights approach' when York became the UK's first Human Rights City in April 2017.
York: Human Rights City (YHRC) aims to bridge the gap between international obligations and claiming your human rights at a local level. YHRC publishes annual reports on York's progress as a human rights city, as work continues to create a vibrant, diverse, fair and safe city.
Your human rights as our customer
As a public authority, we must act in accordance with the Human Rights Act, and:
have an understanding of human rights
apply human rights principles when providing services
take human rights into consideration when developing policies and procedures
Anyone who believes we ('the state') have breached their human rights, can take their case to a UK court (rather than the European Court of Human Rights, in Strasbourg).
Also see