Our local businesses are working hard to keep open and keep customers safe, keeping essential services going during the coronavirus pandemic; they undertake many roles, and we're celebrating this collective show of unity via #YorkKind.
Emma's story, York Gin
York Gin shop is located in an old building with its special charm and atmosphere. As the winners of the Shop of the Year in the Visit York Tourism Awards, we pride ourselves on offering an exciting experience for every customer who walks through our doors. The shop has always served as a 'hub', with our staff interacting with every customer and offering advice on more than just our products.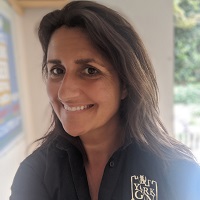 As many businesses in the city, we had to close the shop during the lockdown and have not yet re-opened. However, we continue to sell our locally made award-winning gins online, offering free delivery on all orders in York area. We have seen an incredible support from the local community, who have also joined our live tasting events.
We are looking at the best ways to re-open the York Gin shop as soon as it is safe for both customers and our staff. One of the plans is to add 'gin vending machines' to reinstate one of the most important experiences we offer in the shop – gin tastings. The physical guard between the staff and customers will offer extra protection.
We are also installing more screens that will show information about our gins as well as the city, so we can continue to serve as a small tourist hub as well as a shop.
I live in South Bank, and lockdown has been an opportunity to explore many of York's green spaces while walking the dog. As a business owner, it has been a hard time to switch off completely, but I am looking forward to returning to a happier, greener normal.
Also see