Our local businesses are working hard to keep open and keep customers safe, keeping essential services going during the coronavirus pandemic; they undertake many roles, and we're celebrating this collective show of unity via #YorkKind.
Angus' story, York Ghost Merchants
We opened our shop on the Shambles last year selling York Ghosts. The first six months of trade was overwhelmingly busy. The shop had a lively atmosphere with 15-20 people in at a time. The queues at the till and outside were full of people from all nations.
The pandemic means that the foreign tourist market will not be visiting for a while, but the lockdown has allowed us to pause and prepare for re-opening.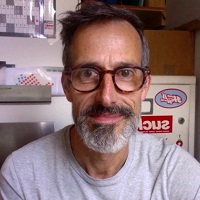 We have renovated space above the shop to move all of the business (office, packing and workshop) into the same building, and have also built up our online sales.
Our weekly release of ghosts now have a following and sell out each Friday!
We have introduced new safety measures in line with our traditional shop. A Georgian sash window acts as a screen, the sanitising station has an antique feel and our brocade masks will match our period costume.
The small shop will only have one customer at a time, but we plan to embrace the situation and offer a great experience, with old fashioned customer service, a warm welcome, and hidden cupboards and stories to explore.
The lockdown has been a rare opportunity to stop. Being self employed, it is difficult to switch off. I have experienced a mental freedom not experienced since being a student! Space to be creative, re-invent the business, and most of all to appreciate a special time together as a family unit whilst our children (19/20 years old) are still based at home.
Also see