Our local businesses are working hard to keep open and keep customers safe, keeping essential services going during the coronavirus pandemic; they undertake many roles, and we're celebrating this collective show of unity via #YorkKind.
Dave's story, Yorbag
I run a left luggage facility on High Petergate. We support accommodation providers in the city centre with storage facilities so that visitors can spend longer in the city on arrival or departure if their lodgings don't have space. We help with directions and advice, and also support attractions that cannot accept large bags; the Minster, art gallery and museums are all nearby.
It's been a tough year for York. First the storms, rail closures and floods made it difficult for visitors to come, and then the virus hit us earlier than the formal closure in March.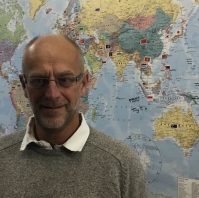 I've been looking forward to reopening. I enjoy my job and look forward to serving the city and hearing stories from tourists again. We have a wall map to record where visitors are from. My ambition is to reach 100 countries, but it came to a halt at 78 earlier this year.
We're part of the practical infrastructure of the city, and it's important to reopen and support our accommodation partners during the pandemic as they now need extra time to deep clean rooms.
Our shop is tiny so we only have 1 person or couple in at a time. Other safety measures include sanitiser for customers and for staff after handling bags, over 1 metre distance when serving, gaps between bags during storage, contactless payments and quick processing. We routinely take the contact details of people as they leave luggage, so contact tracing is possible if necessary.
Outside of work, I've missed the pub, social contact and going for a swim! I like to travel and explore, so it's been frustrating to have free time without the freedom to do so. On a positive note, the break has recharged my batteries, and it's been good to see more people, especially families, out and about enjoying daily exercise. On my walks I have noticed wildlife and plants more. I think people have been more considerate to one another and towards nature.
Also see