Our local businesses are working hard to keep open and keep customers safe, keeping essential services going during the coronavirus pandemic; they undertake many roles, and we're celebrating this collective show of unity via #YorkKind.
Pete and Nicky's story, The White Horse
During lockdown we adapted our pub, The White Horse in Upper Poppleton, to provide a pop up bakery with homemade bread, pies and cakes, and a Friday curry club. These have been well supported, delivering fresh food to the village and to people who were self isolating or shielding.
We were looking forward to reopening and seeing our customers again for more than a passing chat on our dog walk, or in the queue for the Co-op next door!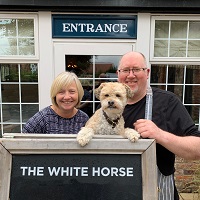 This was mixed with a few butterflies about how many customers would come and how they would perceive the new experience.
We began preparations by decorating and then moved on to adapting spaces inside and out. There is now more space between tables, an extended beer garden, screens at service points, sanitiser, extra cleaning, a new restaurant entrance separate to the bar, and a few signs but most messages will simply come from friendly chats as we all adapt and get used to the new environment.
We decided to only serve drinks for the first few days, so that Nicky and I could both welcome regulars back and manage the floor, rather than being busy in the kitchen. We want to make sure that our customers feel comfortable and relaxed with the new look and feel of the pub.
It feels like starting a business from scratch, with new guidance, staff training on new processes, adapting menus and planning for the unknown. We may be busy at first, but many of our regular lunch clubs may remain shielding until August.
Pete: We live and work with our two boys, but we are all usually busy and only see each other in passing. I have appreciated the rare treat of having evenings off to enjoy quality family time, to eat, catch up and laugh together.
Nicky: The bakery introduced us to more people from the village, and their feedback has been lovely. The pause to normal business gave us time to reflect and reaffirm that we love our job!
Also see