Our local businesses are working hard to keep open and keep customers safe, keeping essential services going during the coronavirus pandemic; they undertake many roles, and we're celebrating this collective show of unity via #YorkKind.
Martin's story, The Whippet Inn
We were lucky in the sense that we had been gearing up to launch a new delivery service, just before lockdown happened. We closed the restaurant on the Friday, and this enabled us to open on the Sunday to deliver finish-at-home meals (roasts, steak boxes and tray bakes such as Mac n' Cheese Gratin with Carolina Pulled Pork).
We were really happy to be able to support @suppercollective for 4-5 weeks, cooking free meals for vulnerable and shielding people, before renovation work at the restaurant took over.
Scaffolding was put up to replace a window upstairs, we then discovered a problem with the roof! It all came at the wrong time financially, but at the right time in terms of having the time to tackle it without closing the restaurant. We've now freshened up the entire restaurant.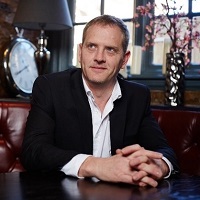 I feel apprehensive about reopening as we're unsure as to what to expect and anxious about whether we might have to close again in the near future.
We will only be open for dining, not drinking. We have moved some tables from the main restaurant into the bar, and have doubled the outdoor eating space, meaning that we still have the same number of covers- weather dependant.
We have introduced a one-way system, sanitiser stations, pre-booked tables only and an allocated time periods to allow us to clean each table after every guest. There will be no screens, but staff will wear masks and will have their temperature checked alongside a daily health questionnaire, and we will work in set teams.
I have worked throughout lockdown and have established that I am not a good painter or decorator! Outside of work, my wife and I have a 1-year old fox red Labrador, so we have been 'trying' to train him… and I have taken up cycling which I thoroughly love!
Also see