Our local businesses are working hard to keep open and keep customers safe, keeping essential services going during the coronavirus pandemic; they undertake many roles, and we're celebrating this collective show of unity via #YorkKind.
Kate and Kelly's story, Pairings Wine Bar
We are sisters and opened the bar on Castlegate in 2015, specialising in pairing wine and food. We come as a pair, hence the name!
Our team of 12 employees were furloughed when we had to close our doors in March. During lockdown we started a takeaway and delivery service which proved really popular, so we were able to take two employees back on. We've really had to think of ways to diversify our business in order to survive, we introduced corporate virtual wine tastings and wine and food pairing gift boxes for Father's Day, all of which we'll continue to offer after we re-open.
It's been a difficult few months both personally and on a business level, but we've learnt so much and can't wait to open our doors again on 4 July.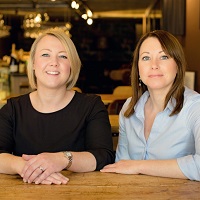 Our safety plans include socially distanced pre-booked tables, bar codes to view menus from your mobile device, sanitation points, daily temperature checks for staff and extra cleaning routines.
We're so excited that we can now have seating outside which will really help as we've lost over ½ our covers due to social distancing measures.
Kate: Although this time has been incredibly challenging, it's really made me appreciate the simple things in life. I've enjoyed spending time with my two young children during lockdown, discovering local walks and growing vegetables in the garden, so much so we've just signed up for our first allotment!
Also see