Our local businesses are working hard to keep open and keep customers safe, keeping essential services going during the coronavirus pandemic; they undertake many roles, and we're celebrating this collective show of unity via #YorkKind.
Alex's story, The Little Yorkshire Candle Company
I opened my shop in December 2019 after finding a beautiful premises in Goodramgate. I love York, and have really enjoyed creating a welcoming, calm ambience with the essential oils and products. Trade was great in December, followed by a quiet January and flooding in February. I was very nervous but everyone said don't worry. Then March brought Coronavirus and all of our ideas and plans for workshops have stopped for now.
I have used the past three months to reflect on what is important and to develop new relationships and new ranges with other makers. I have relaunched the website and online sales have increased.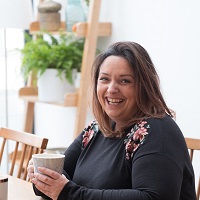 I am looking forward to seeing my customers again when I re-open. I don't know them all by name, but I love talking to people. One gentleman, a local artist, even brought me a rooster for the shop window to bring me prosperity.
The shop is small, so I have made changes to make us all safe. The first weekend will be counter service from the door. Then the shop will re-open on Friday 26 June for one customer at a time, with gloves and a foot dispensing sanitiser available, and a screen at the counter. Whilst the usual inviting atmosphere might be compromised for a while, the friendly welcome will remain.
I live in Church Fenton and have been home schooling my children during lockdown. The period has taught me that we can't control everything, only our reactions. I hope both businesses and people return to the city soon and I am optimistic that York will get back to it's former self in time.
Also see