Our local businesses are working hard to keep open and keep customers safe, keeping essential services going during the coronavirus pandemic; they undertake many roles, and we're celebrating this collective show of unity via #YorkKind.
Alex's story, The Hilt
The Hilt is a place where you and your friends can learn how to throw axes like true Vikings. It is less of a spontaneous and more of a planned experience, so we have seen a drop in bookings a couple of weeks before the lockdown. So, you can say, we were somewhat prepared for what was to come. This doesn't minimise the shock and uncertainty that came with the lockdown.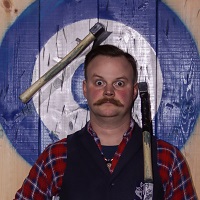 Now, we are preparing to reopen The Hilt on Thursday 30 July and to welcome people back again to offer our very unique experience. We understand that the reality of reopening is very different to many peoples' expectations.
We are lucky to have quite of a spacious building in York that allows for social distancing in line with the government safety guidelines. However, we had to reduce the capacity by more than a half to ensure the safety of all.
One of our biggest priorities is to ensure we eliminate the possibility of cross-contamination as much as it is possible. Instead of previously available "communal axes bucket" we will now provide each individual person with their own personal axe. All visitors as well as staff will be required to wear masks at all times.
For me, lockdown has been a time to take a break from the busy life of emails and phone calls – to decompress from the day-to-day routine. I've always liked to get away cycling and hiking and have been going on long bike rides enjoying the scenery of the North York Moors. I am looking forward to saying "hello" to people in person and enjoying a drink together.
Also see