Our local businesses are working hard to keep open and keep customers safe, keeping essential services going during the coronavirus pandemic; they undertake many roles, and we're celebrating this collective show of unity via #YorkKind.
Rob and Anne's story, Green Vets
We opened our veterinary surgery in Acomb last May. At the beginning of the lockdown we weren't sure if we would be able to stay open, but guidance confirmed that we were an essential service with a duty of care to provide emergency medical services.
We made changes to the way we work, postponed routine tasks and prioritised urgent cases. From day one, no clients have been allowed on site. We have been doing consultations over the phone and exchanging animals at a 2m distance in the car park, which can be a challenge in the pouring rain!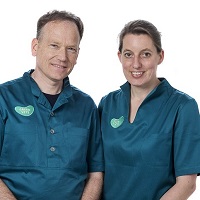 We are maintaining our usual hygiene standards, as we deal with infection routinely every day.
Where an owner would usually hold their pet in the clinic, staff are now stepping in. Telephone consultations take extra time, and some tasks are taking up to four times longer, so our through-put is less.
We are at a crossover now where postponed appointments and operations are becoming urgent, and we are very busy catching up with expiring vaccinations. We are a small team, but our two furloughed nurses are now back at work.
Most clients understand that we are working very hard, and trust that we are doing the best we can. Please continue to be patient as we all establish a new normal.
We work and live on site which makes it easier to social distance. We haven't had much luck with booking food deliveries, but put on our mask and gloves and go food shopping once a week. We grow our own vegetables, and are going to grow more from now on. The hardest part of the pandemic, alongside running a new business, has been not being able to meet our family and keep them safe during lockdown.
Also see