Our local businesses are working hard to keep open and keep customers safe, keeping essential services going during the coronavirus pandemic; they undertake many roles, and we're celebrating this collective show of unity via #YorkKind.
Dawn's story, Fabrication Crafts
We opened our pop-up gift shop on Coney Street last year. It is a collective space, run by a team of makers who all work in the shop and contribute to bills.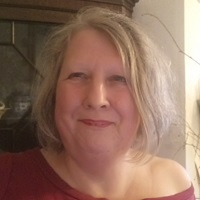 Part of our social enterprise remit is to stop social isolation amongst crafts people. Our team work in the shop because they want to see each other, so during lockdown we have had a Zoom meeting every day at 3pm to stop for a chocolate or coffee break and a chat!
We've been working hard to make the shopping experience as reassuring as possible for those getting out and about after a long spell at home.
We are excited to welcome customers back and, naturally, a little nervous too.
We've built a new website and a click-and-collect service, but my primary wish is to attract people to the high street rather than online shopping. As well as the usual hygiene measures in the shop, we have created personalised visors and quirky signage to keep everyone safe whilst still having fun. We have also introduced a VIP shopping service if anyone is anxious and would prefer to book a private browsing slot.
Numbers in the shop will be limited, and a one-way system will guide customers out into the courtyard of the Judges Court Hotel. We have added plant pots in the courtyard with species linked to former Coney Street trades, informed by research from our heritage project.
My first instinct after the shop closed was to focus on the making sure that the business survived. I only reached the point of lockdown decorating, detoxing and yoga in the last two weeks, so am now playing catch up! I am missing being able to hug my parents, and am looking forward to laughing with friends again, reminiscing and planning holidays.
Also see