Our local businesses are working hard to keep open and keep customers safe, keeping essential services going during the coronavirus pandemic; they undertake many roles, and we're celebrating this collective show of unity via #YorkKind.
Nic's story, Dog and Bone Vintage
I closed the shop in March, and our staff were furloughed. It felt like I was back at square one, when I worked alone running stalls at markets and vintage fairs.
Most of the past 3 months has been occupied by the creation of an online shop. This is a time consuming task for vintage clothing as each piece is a one off, requiring unique photos and measurements.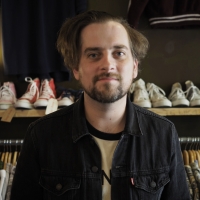 I feel optimistic about re-opening. It will be a rocky year, but will keep going. People have become more used to shopping online, but we hope that the locals will come out to support all of the independent shops.
Our staff are all looking forward to re-opening. There are new procedures in place across the store to keep everyone safe, but we're confident that it will still be an enjoyable experience.
We have a 1950s cocktail counter as a sanitising station, a screen at the counter, regular cleaning, and we have moved mannequins so that it's easier to see across the whole store. Only 4 customers will be in the shop at a time.
The changing rooms will be closed, but we now offer a full refund within 14 days. All returned clothing will be quarantined for 72 hours.
During lockdown, I have missed seeing people and being able to support other businesses. On a weekend, my fiancé and I like to go for countryside walks, and visit the Yorkshire Dales and local market towns to sample local eateries. I don't shop online, I like to meet people, and share the experience with small businesses… it puts a smile on my face and theirs.
Also see